Wadi Shab is pretty much the most famous canyon in Oman. It is the go-to, and the must visit canyon of Oman. Whether you are a thrill seeker, casual adventurer or just wana chill in a cool place, this canyon is for you. And the best part of it, it is a great place to spend a day with your kids
. Basically, this canyon is the right taste to all goers.
I rate Wadi Shab as 1-B-G-I based on the ACA canyon rating.
I visited Wadi Shab more than I can count, in all seasons, when it was crowded and when no other human trace was around. I must say, it is beautiful regardless. But the selfish me prefers when the entire canyon is for myself. So, I usually choose midweek days or Saturday and avoid any holiday, it can get PACKED! like a sardine-can kind-of packed.
The Path:
The upside of Wadi Shab is its easy path that reveals hidden gems. The path starts off crossing the first lake by a speed boat (yes, you have to hire a speed boat for 1 OR = 10 AED 2 ways) to cross the lake. Then you go through couple of green plantation farms, until you are in wadi bed. The path is a bit of sand, slippery mud, gravel, rocks and occasionally walking on the Falaj (a Falaj is Oman's traditional irrigation system). And of course, optional swimming ?
Routes:
There is one route in and out. Somewhere halfway you can either go left or right, they both lead to the same place. The 1-way route is about 4.5km that ends in a beautiful hidden cave with a waterfall in. This cave is surely the cherry on top, so get adventurous and swim through the narrow squeezy entrance, it is worth it.
Canyon's parameters:
Easy canyon Non-technical

Distance: 6 km roundtrip
Estimated duration: 2-3 hours roundtrip
Altitude gain/loss: 100m
Starting elevation: 0mEnding elevation: 130m
Level: 1-B-G-I (based on ACA canyoning rating)
Coordinates:
Start point: 22°50'20.9″N 59°14'45.9″E

End point (cave): 22°49'55.6″N 59°13'41.7″E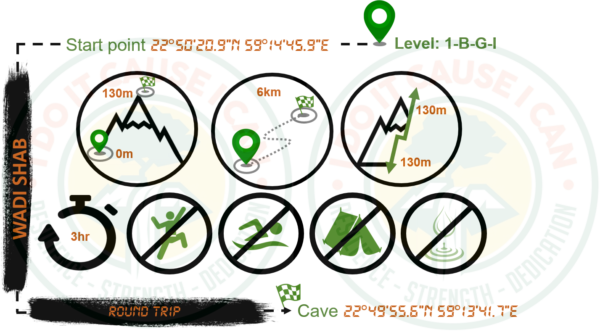 Essentials:
The temperature might be cooler, but you will be exposed to the sun big time. So hydrate well and have sunscreen on you

No wetsuit needed

First aid kit

Headlight

Emergency blanket

Hiking backpack would do, but make sure you have a floaties for the swimming part. You don't want your hiking backpack to get wet and pulls you down
Fitness requirements:
It is an easy peasy hike, so it does not require you to be fit. Nonetheless – and since I am all about being healthy and stuff – being fitter would make it easier walk.
Scenery:
Oh wow! where to begin explaining this part… it is a beautiful canyon! very beautiful… I will leave you with some photos and your curiosity to explore it on your own.
Red Tape:
Keep an eye on the sky, any signs of clouds, means there is potential rain. It could also rain on top of the mountain and build flash floods in the canyon. In case it is raining, find yourself a shelter with high grounds away from rockfalls and floods.

Make sure you check the weather forecast of the area before heading into the canyon.

Please don't leave trash behind, and if you see any trash laying around, do the community a favor and collect it.

Always inform people of your trip, and expected return time.

Some pools are deep, while other are shallow and not visible. Make sure the pools are deep enough before you jump in, especially at the cave.
Pictures: