Wadi Nakhr in Jabal Shams is known for its breathtaking scenery. If you ever hiked the Jabal Shams summit or the Balcony routes, you probably have noticed the Grand Canyon of Oman and its enormous arch. This Grand Canyon is Wadi Al Nakhr. Nakhr is an old village situated at the bottom of the mountain hidden in a small oasis down the canyon. Its habitants have only recently abandoned their houses and moved out.
I rate it as 4-B-X-V based on the ACA canyon rating.
It wasn't an easy decision to write and publish the details of Wadi Nakhr, but here you go. I believe giving you all the details to this place will help you prepare and get to know how serious this canyon is.
This 2-day adventure is not for the inexperienced. Advanced canyoning experience is not enough, I recommend having at least 1 member in the team who is able to work in extreme exposed and dangerous conditions, who has knowledge in complicated rigging and who is able to perform rescue. The first day is not a canyon per say, it is more of the approach to the canyon. And this approach (especially if you take approach 2 in the below description) can be dangerous and complicated. So, prepare well.
The Path:
Wadi Al Nakhr is a little bit different from other wadis in Oman. It has 3 different starting points with 3 different routes for the first section. This variety in routes enriched it with different type of paths.
The first part is a mix of donkey path, dangerous and exposed scree at some points, and unstable rocks on exposed sheer drops. In my opinion, this part is not canyoning, it is more of a combination of hiking and abseiling.
The second part of the wadi is a mix of multiple terrains. Pools, knee deep pounds, streams, boulders, and gravel.
Please note, the 4×4 track from the village Al Nakhr to the main road is completely washed away by floods. So, you must walk out on your own. The walk is easy.
Routes:
Thanks to Dr. Khaled Abdul Malak, the infamous Oman Canyon explorer and the writer of the "12 Exceptional Wadis" book, he explains the below approaches for the canyon: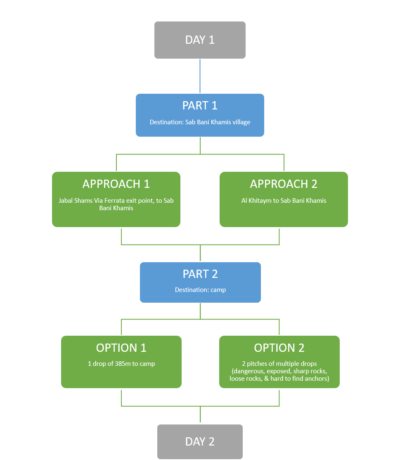 Part 1:
2 different approaches leading to the abandoned village of Sab Bani Khamis.
Approach 1: from Jabal Shams Via Ferrata exit point to Sab Bani Khamis. This approach has 2 different routes within. (more information about Jabal Shams Via Ferrata).
Hike down from the exit of Jabal Shams' Via Ferrata all the way to the first bolts. It is about a 10-minute hike in the wadi bed. Then abseil the first 20m of the via Ferrata.
Here, take "route a" or "route b".
Route a: 10-minute hike à 35m abseil à 180m abseil à hike down to Sab Bani Khamis. (the 180m drop is called Sheikh Al Majaneen drop by Dr. Khaled)
Route b: 10-minute hike à 35m abseil à follow the VF trail in reverse à 55m abseil à hike down to Sab Bani Khamis. Descending on the VF cables might be tempting, but it is dangerous and not recommended, especially this VF is not safely built, plus you must carry an extra VF kit .

Approach 2: From Al Khitaym to Sab Bani Khamis. This approach is the famous As Sab W6 Balcony hike. It is 1 to 1.5-hour beautiful hike until you reach the Sab Bani Khamis.
Part 2:
From Sab Bani Khamis to camp, the bottom of Jabal Shams Great Wall, which is the beginning of Wadi Nakhr Canyon. Dr. Khaled explains about 2 different options:
Option 1: follow the natural wadi flow from Sab Bani Khamis all the way to the top of the great arch. This is a free-hanging 385m drop explored and first descended by Dr. Khaled & followed by Mihai Catrinar in 2010 (wow! what a thrill…)
Option 2: alternatively, hike east from Sab Bani Khamis without losing nor gaining any altitude all the way to this point: 23 12 51 N, 57 12 57E. From this point, you abseil 2 pitches:

Pitch 1: 2 drops – 50m à 30m
Pitch 2: 3 drops – 60m à 25m à 60m
After pitch 2, walk towards the big cave (Kahf Fares), aim towards the ridge below you and start your descent into the canyon. This walk down should take you ~1 hour to the camp.
This option is a no picnic trip, it is dangerous, exposed with sheer drops, and prompt to a LOT of rock falls. You must be extremely experienced, very careful and comfortable with being uncomfortable. And if you would ask me for my honest opinion, I would not recommend doing it. I personally would not go back there and repeat what we have done, because the uncalculated risk is higher than the controllable measures.
Part 3:
It is basically day 2 route, from camp to exit. The first half of the day is actually inside of the canyon abseiling followed by a long walk out from the village Nakhr to the first accessible road. I will not put the coordinates of the anchors as it is not straightforward, so I highly recommend taking your drill (battery or manual) to make your own anchors if you found it hard to find the pre-existing anchors. And 6 to 10 anchors are more than enough.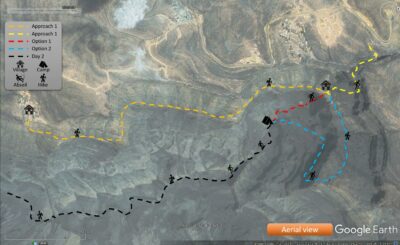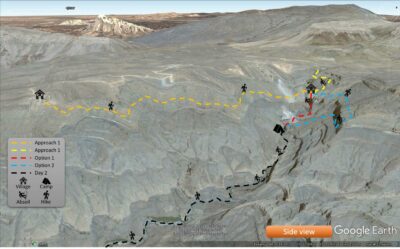 Canyon's parameters:
Very technical – recommended only for very advanced & experienced canyoners
Distance:

Part 1:

Approach 1: 2km
Approach 2:  ~500m

Part 2:

Option 1: ~500m
Option 2: ~1km
Estimated duration: whatever option you take, you have to allow 2 full days (20-26 hours)
Altitude loss: ~1,200m
Starting elevation: 1,990m
Ending elevation: 790m
Requires: abseiling, hiking, swimming, climbing & bouldering around large rocks.
Level: 4-B-X-V (based on ACA canyoning rating)
Coordinates:
Part 1:

Approach 1: 23°13'21.6"N 57°12'20.4″E
Approach 2: 23°11'36.3"N 57°12'07.5″E
As Sab village: 23°12'56.6"N 57°12'22.9″E
Part 2:

Option 1: 23°13'04.3″N 57°12'28.9″E
Option 2: 23°12'51.0″N 57°12'57.0″E
The cave (Kahf Fares): 23°12'56.9″N 57°12'48.0″E

Camp (Approx.): 23° 12.863'N, 57° 12.505'E
Al Nakhr village: 23°12'02.7″N 57°12'46.0″E
Parking: 23°09'25.7″N 57°12'18.2″E
Essentials:
The temperature might be cooler, but you will be exposed to the sun big time especially the first day. So hydrate well and have sunscreen on you.
No need for wetsuits.
Hiking backpack would do, but I highly recommend canyoning bags to avoid damaging your hiking backpack.
Take a personal rescue kit with you.
There are water streams on the go (not the first day), and to be on a safe side make sure to use a water treatment tablet or a water purifier.
Pack enough food for 2 full days. I personally like to have a few extra bars for any emergencies.
Waterproof (rugged cases are preferable) casings.
Mosquito net for camping
Sleeping mat
Emergency blanket
First aid kit
Headlight
Fitness requirements:
This canyon is no joke, it is the real deal. Your fitness should be the least of your concerns, so you are able to focus on the hard technical part and all other dangers. So be FIT.
Scenery:
The first day, the entire place is breath taking due to the nature of the cliff overlooking An Nakhur village at the bottom of the canyon. The abandoned village is very nice, please do not ruin nor take anything that is placed there.
As for the second day, and like most of Oman's canyon, you will be surrounded by enormous walls and large boulders. The usual old abandoned settlements marvelously built on cliffs, along with the great long drops over beautiful pools. And as a bonus, the hidden lake just before the last drop.
Red Tape:
Start super early, around 5-6am especially the first day.
This canyon requires a lot of thinking and planning. Do your homework.
Keep an eye on the sky, any signs of clouds, means there is potential rain. It could also rain on top of the mountain and build flash floods in the canyon. In case it is raining, find yourself a shelter with high grounds away from rockfalls and floods.
Make sure you check the weather forecast of the area before heading into the canyon.
There is only 1 qualified guide in Oman for this, and that is Justin from 23extreme. But I am not sure he does lead such risky trip.
The ideal number for canyoning is usually 4-5 people of the same level. Any number higher equates to a slower time of completion. For this particular one, I do recommend a smaller group of 3-4 max.
I couldn't stress enough how dangerous day 1 could be, especially from fallen rocks. So be careful. Shout "ROCK ROCK ROCK" from the top of your lunges if you drop a rock.
Most of the anchors are single, so watch out of your rigging. Or/and add backups.
Take a drill, bolts and hangers, they might come in handy. Alternatively you can take manual hand drill with spits.
Please don't leave trash behind, and if you see any trash laying around, do the community a favor and collect it.
Always inform people of your trip, and expected return time.
Pictures:
Picture credit to Christopher Pike