Omalo to Shatili trek is probably the best trek I have done in Georgia. The donkey paths connect the old traditional villages which played an important historical role in the face of enemies. The scenery consists primarily of massive valleys split with a big river, mountains, and old villages with interesting stone architecture surrounded by the famous Georgian watchtowers.
The full Omalo to Shatili trek takes up to 5-6 days. However, the first 2 days can be done by a 4×4 and be driven directly to Girevi village. In addition, you can hire horses to carry your packs and gear making you lighter and faster.
In my opinion, I consider this long (about 80km long) trek as medium-hard. There is a lot of constant elevation loss and gain (approximately 3,500m up & down), and you have to be self-supported (unless you fancy hiring horses and mules), which means you have to carry a heavy backpack. Adding to the mix a daily of 8-10 hours of trekking with occasional river crossings.
The Path:
The first 2 days, from Omalo to Dartlo to Girevi, the path is mostly on a drivable road. Then the path turns to donkey/shepherd trails. Occasionally you have to cross the river on man-made wooden bridges, and few times you can't escape but crossing it on foot. Most of the trail is marked with painted flags on rocks and trees.
The Route:
In summary, the route we did is:
Omalo – Dartlo – Girevi – Kvakhidi meadows – Khidotanis Field – Musto – Shatili.
If you are fit, light and fast, you can combine a few days together and finishing the trek in 3-5 days. However, I will describe the 6 day itinerary we went on.
Day 1: Omalo to Dartlo
It is a 4 to 6 hours hike covering around 12km with 438m elevation gain and 206m elevation loss.
The day starts from the upper part of Omalo, just by the old towers in the main square.  It is an easy walk with an exception of one short steep section. The path is mostly on a dirt road, and occasional short cuts in the woods. Darlto is beautiful, and has a dramatic scene to it. there are few guest houses, a restaurant and a small grocery store to re-stock with basics.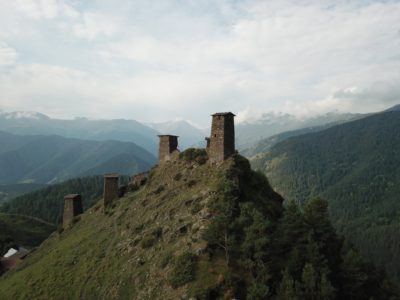 Day 2: Dartlo to Girevi 
It is a 5 to 7 hours hike covering around 14.5km with 405m elevation gain and 670m elevation loss.
Most of the path from Dartlo to Girevi is on the dirt road, while regular easy elevation gain and loss.
There is a village (Prasma) midway to Girevi you can grab lunch at. At Girevi, there are few guesthouses and tea houses for shelter and food. But we camped at a distance from the village, not far away from the river. At this village, you have to inform the border guards about your plan to move beyond this point, you will need to obtain a permit. To obtain the permit, present them with your passport. They are super friendly guards. I suggest issuing the permits on the same day you arrive, so you don't get delayed in the morning.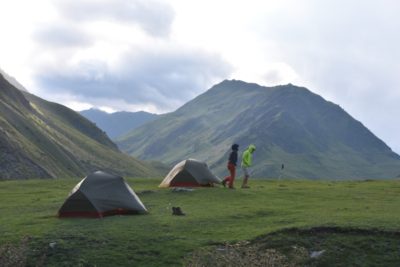 Day 3: Girevi to Kvakhidi meadows
It is a 7 to 8 hours hike covering around 12km with 978m elevation gain and 584m elevation loss.
The path hereafter is super visible, climb towards the towers just after the border post, and continue on the shepherd's trail. This trail will mostly be around 100m above the river, winding between the old farms and abandoned village with nice ruins. The path is relatively easy and no steep sections till you reach camp. The camp is formed of beautiful green meadows with a shepherd tent just after the wooden bridge over the river. Feel free to camp here or just after. This place has a stream to refill water, and the shepherd sells some bread, cheese, and wine…
A guy – likely on his horse – from the border will come to check your permit.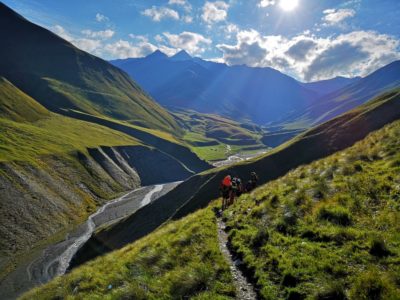 Day 4: Kvakhidi meadows to Khidotanis Field
It is a 9 to 10 hours hike covering around 12km with 1,352m elevation gain and 866m elevation loss.
This is the hardest day with lots of steep ascents and descents to cover, reaching an elevation of 3,500m which adds high-altitude challenge. If you are not familiar with high altitude, it means you could suffer from light headaches, have nausea, lose appetite, and all due to the lack of oxygen in your body. If you have any of these symptoms, keep drinking water and go on a slower pace.
Half of the day is spent hiking by the flat bit of Kvakhidisitskali river, and you cross it twice. The first cross is on a wooden bridge, and the second cross there is a rock with "Exit Shatili" mark on, and no bride, so yes, you have to get wet. You start gaining elevation by taking the right valley about 150m after the river. The terrain changes from flat bits of just green grass, to pure brown scree with a very visible path taking you all the way to the Atsunta pass. This is the section you might suffer from High-altitude.
At Atsunta pass (the highest point you reach on this trek), there are few flags, souvenirs, and markings. Take rest here and enjoy the 360 view of both sides of the trek before you start the descent.
We camped just after the descent section, and turned out to be the best decision. There were no water streams further that section. And to our luck, we had great sunset and sunrise views overlooking the tip of Mt. Kazbegi and other mountain range.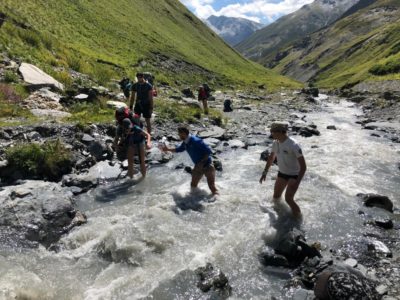 Day 5: Khidotanis Field to Musto
It is a 7 to 8 hours hike covering around 14km with 1,486m elevation gain and 1,585m elevation loss.
One of the easiest and scenic days. Follow the visible path around the mountain for about 40-60 minutes until you reach the famous Khidotani ridge. Continue on the ridge following the path until you reach the border post. Present your permits at the post and continue your day. Go right past the border post and start your descent to the river. Once you hit the river (don't hesitate washing off your worries and drama in this cold badass water) continue on the 4×4 track until you reach Musto village. The 4×4 track is flat all the way. Just before Musto, there is another border post that you have to present your permit, so make sure you don't lose them.
Musto is known for its old abandoned settlement on the hill. Make sure to visit it, especially that for the past few years they have been undergoing renovation.
We slept in Musto that night in a small inn.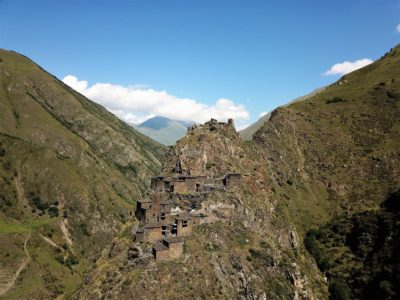 Day 6: Musto to Shatili
The path from Musto to Shatili is a road. You have the option to hire a horse or a cab to go to Shatili. The road is flat for 10 km.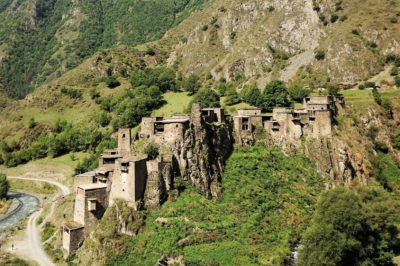 How to get to Omalo:
As far as I know, there is no public transport to Omalo. So we pre-arranged and chartered a 4×4 van (Marshutka in Georgian) from Tibilisi.
How to leave Shatili:
There is a Marshutka that leaves every Thursday and Sunday. But I am assuming it will be full, so I recommend buying the tickets in advance (ask around in Shatili), you can also hire a local taxi. In my case, we hired the same 4×4 van driver that dropped us to Omalo (must be pre-arranged in advance).
Accommodation:
We camped at Girevi, Kvakhidi meadows, and Khidotanis Field.
And stayed at guesthouses at Omalo, Dartlo, Musto, and Shatili.
Weather:
The weather in summertime was lovely. Constant refreshing breeze, cold enough at night to make you want to snuggle in your sleeping bag, and warm enough to make you not forget the sunscreen at home.
The temperatures ranged between 18c and 25c during the day and 8c to 15c during the night.
There was some rain but nothing serious, despite the weather forecast predicting a heavy storm. Nonetheless, prepare for rain and mud, you really don't want to be caught with heavy rain in that area and get wet. And I believe the descents and ascents paths will be very muddy when it rains.
The trek is not doable in winter, solely since both villages Omalo and Shatili are inaccessible due to road closure, and also abandoned by villagers.
Gear:
If you are onto this long and unsupported trek, you probably should by now know what to pack. But needless to say, below are some items not to forget:
Camping gear:

3 season tent
Sleeping bag with 5c comfort
Sleeping mat
Stove, gas, pot and cutlery

Trekking gear:

Good trekking high ankle shoes.
50-60L backpack.
Trekking poles
Water containers

Personal kit:

Hygiene kit (make sure you burn your toilet paper not to leave any trace)
Toiletry kit (don't forget your sunscreen)
First aid kit (learn how to use it)
Sunglasses are essential

Clothes:

Thermals for the night
Warm socks
Waterproof jacket
Windproof jacket (down jacket will come in handy for extra warmth)
Light dryfit jumper for day hiking. It will keep you warm against the wind and protect you from the sun
Hiking shorts or pants
Pictures: