I hope the following content helps you plan a Khasab – Oman getaway:
The story behind Khasab's first exploration
How to get there
Visa requirements
What to do
Where to stay
What to see
Tips
Important notes
---
THE LOVE STORY:
Oh boy! Where should I start !!
It all started when we were bored rock-climbing at RAK one Saturday afternoon. I've had heard of this place called Khasab in Oman nearby RAK. So a spontaneous idea came up to cross the border, have a quick tour and dine in Khasab before heading back to Dubai.
And so we did. Leanne and I hit the road and crossed the border. We were surprised by the change of scenery, just few hundred meters off the border into Oman. The route is breath taking. It stretches along the coast all the way from the border to Khasab town.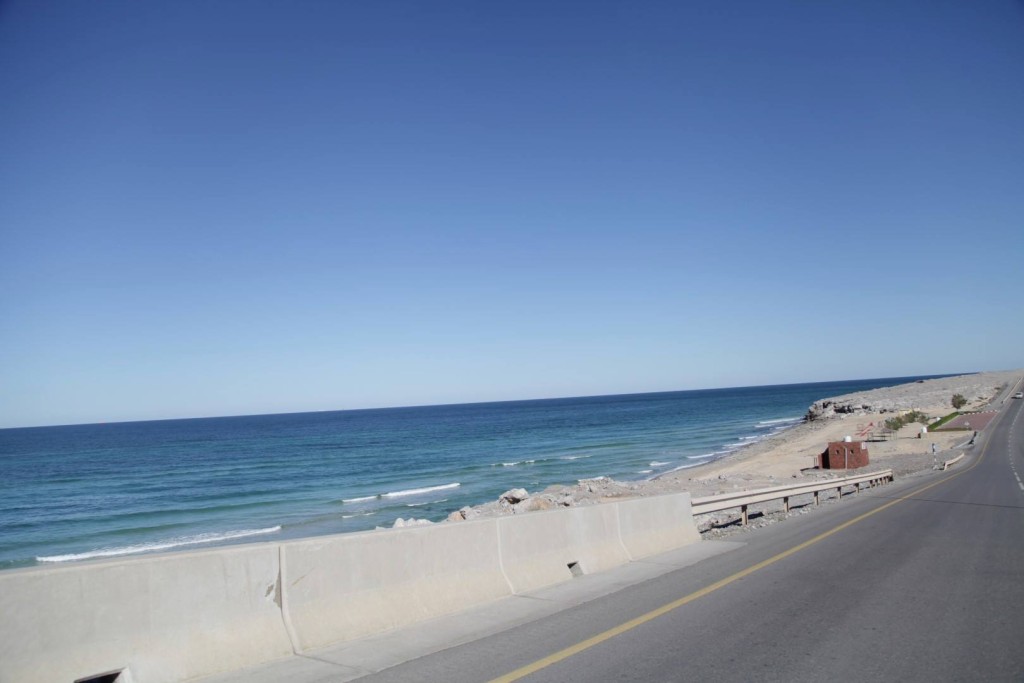 Khasab is a small – mostly – fishermen town that is very basic. Typical Omani houses, small roads, few Mosques and loads of goats walking on the streets like they own the place. We dinned and headed back to the concrete jungle Dubai.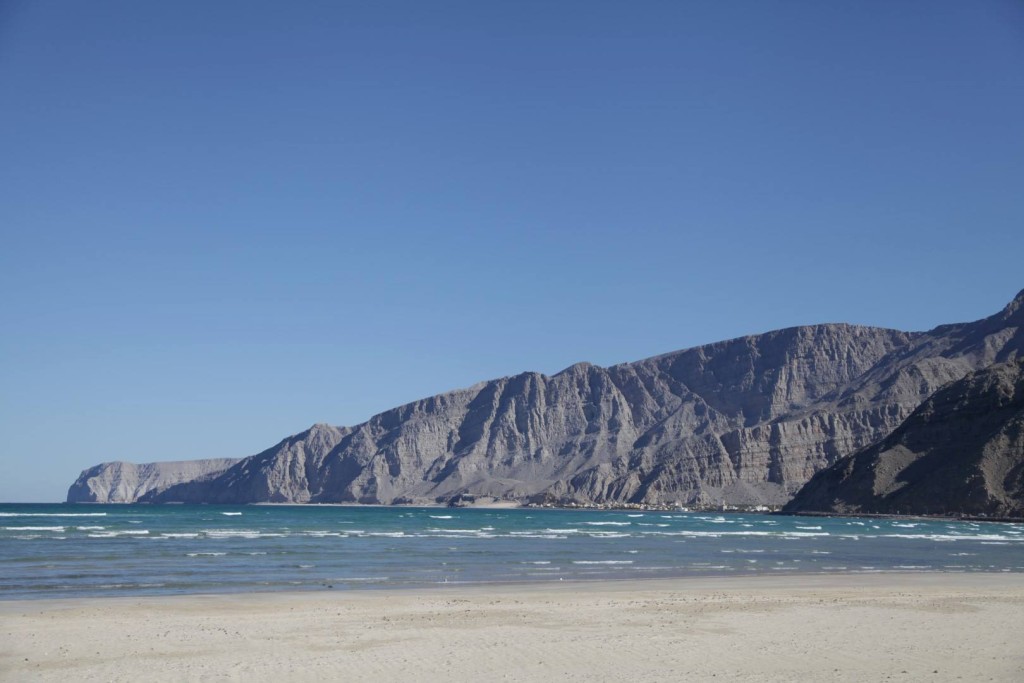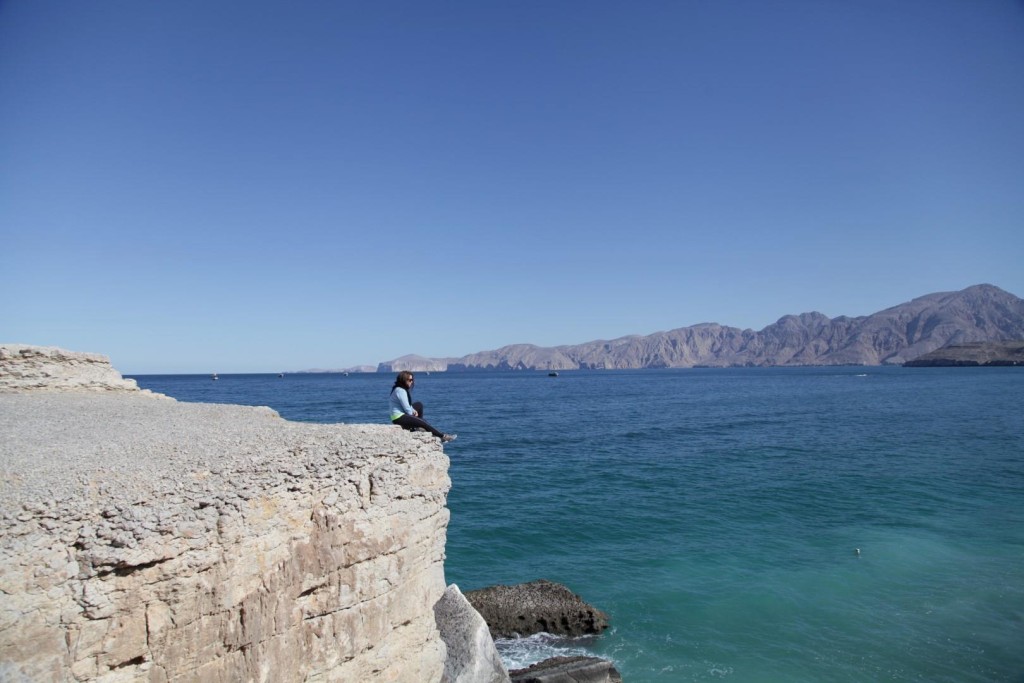 Few weeks later, we decided to spend Christmas holiday exploring what's beyond the town. We heard of the climbing crag in the area and the famous Kumzar village located at the tip of the peninsula. So we packed our gears and off we went.
Day 1:
We drove up to As Sayh village (also know to have the famous Stairway to Heaven plateau), and camped on the edge of the plateau (which happens to be the border between Oman and UAE).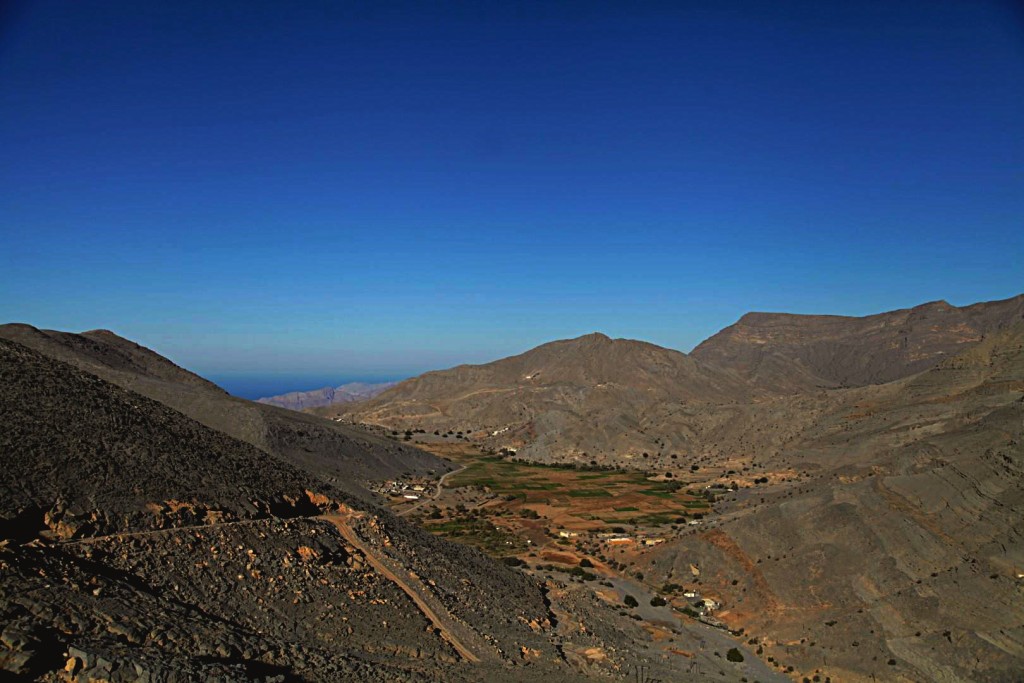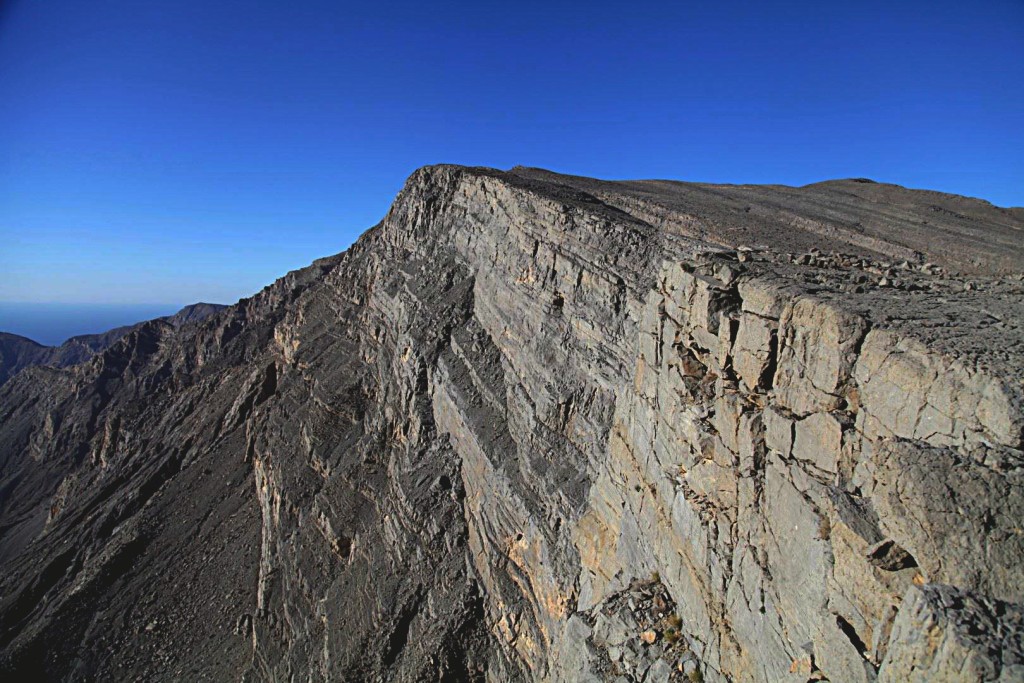 It was a very cold night, the temperature reached -2ᵒC. We surely were not prepared for such temperature, our tent was a cheap crappy small one that kept leaking cold water droplets generated by our warm breaths. In fact I believe it would have been better to just sleep under the stars. At least this way, we wouldn't have had to get teased by some freezing droplets.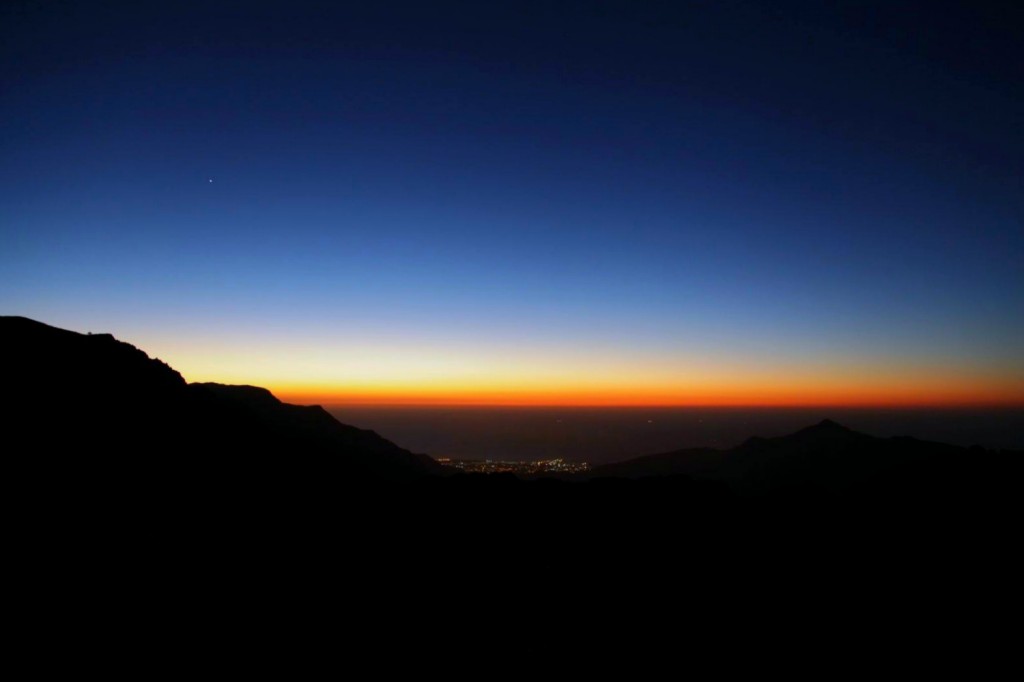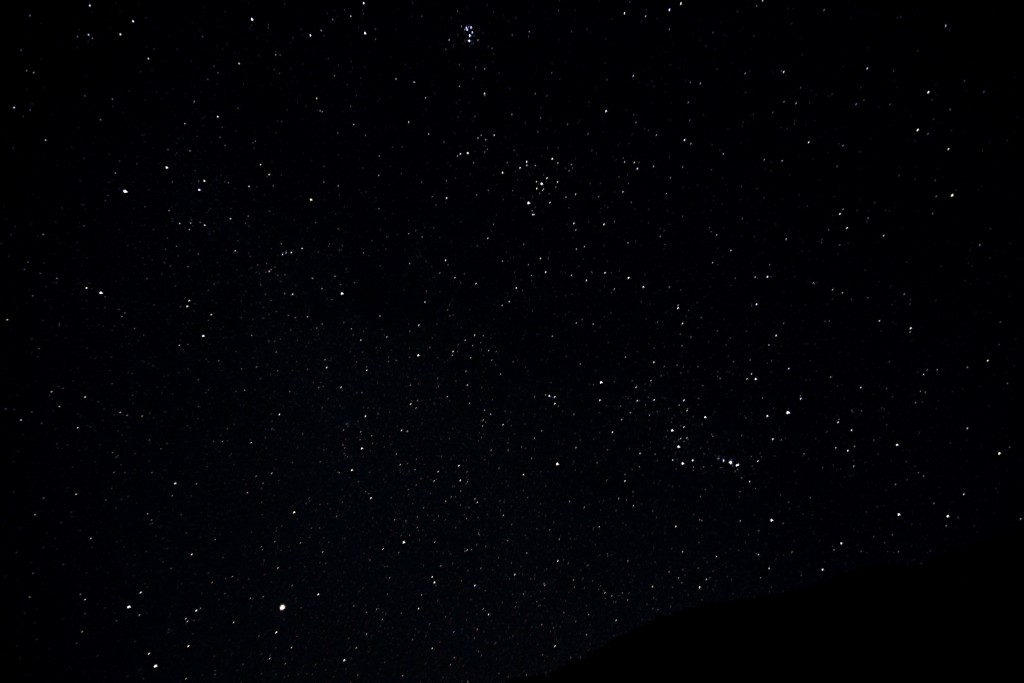 Anyhow, it was worth it to wake up to a beautiful scenery overlooking Ras Al Khaima's northern part.
Day 2:
We packed, and drove down the mountain towards the port. Our plan is to hike over the hill that connects the main road behind the port to Seeb Al Ghareeb beach (where the rock-climbing crag is located), climb and camp at the beach.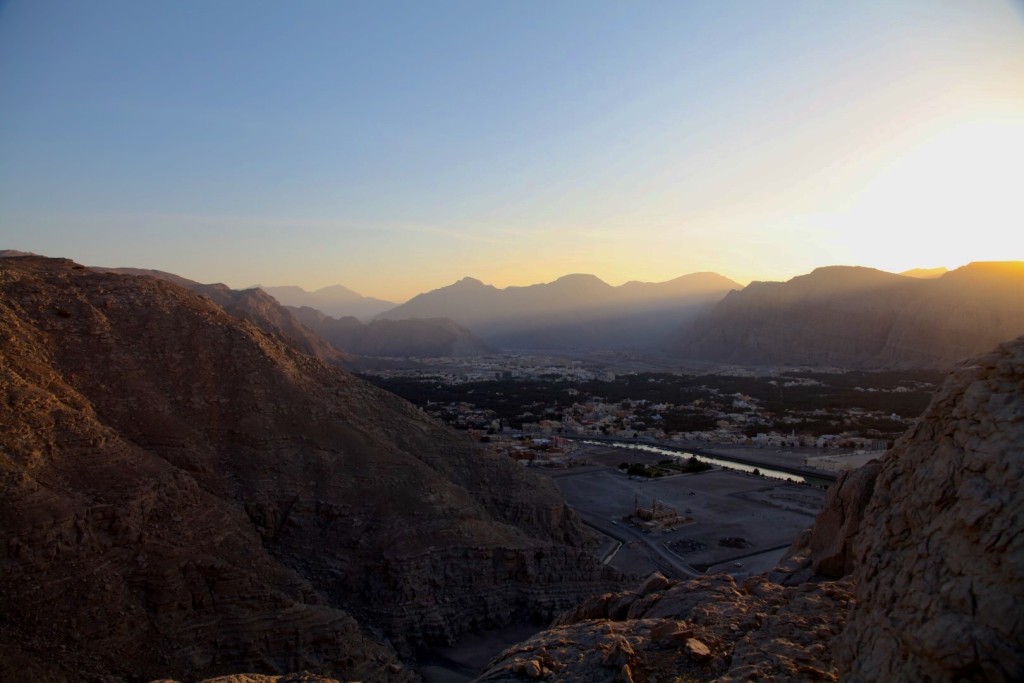 So we did. While hiking, we met a lovely local guy Mohammed hiking as well. He hikes daily around the area. Mohammed helped us finding the shortest and easiest route, and helped us carry some of our gear we had.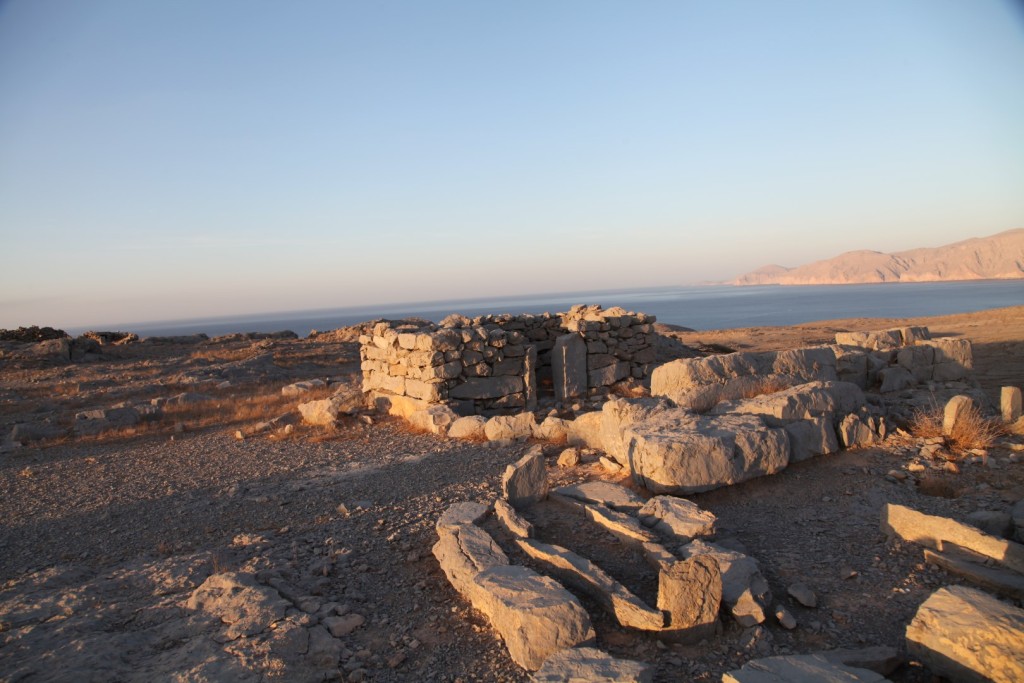 The last bit of the hike is a descent through a canyon, with limited view of our surrounding. However, just after the last corner, one of the prettiest beaches I have seen came in sight. Seeb Al Ghareeb beach is surrounded by two hills on each side. The scenery kept getting prettier the closer we walked.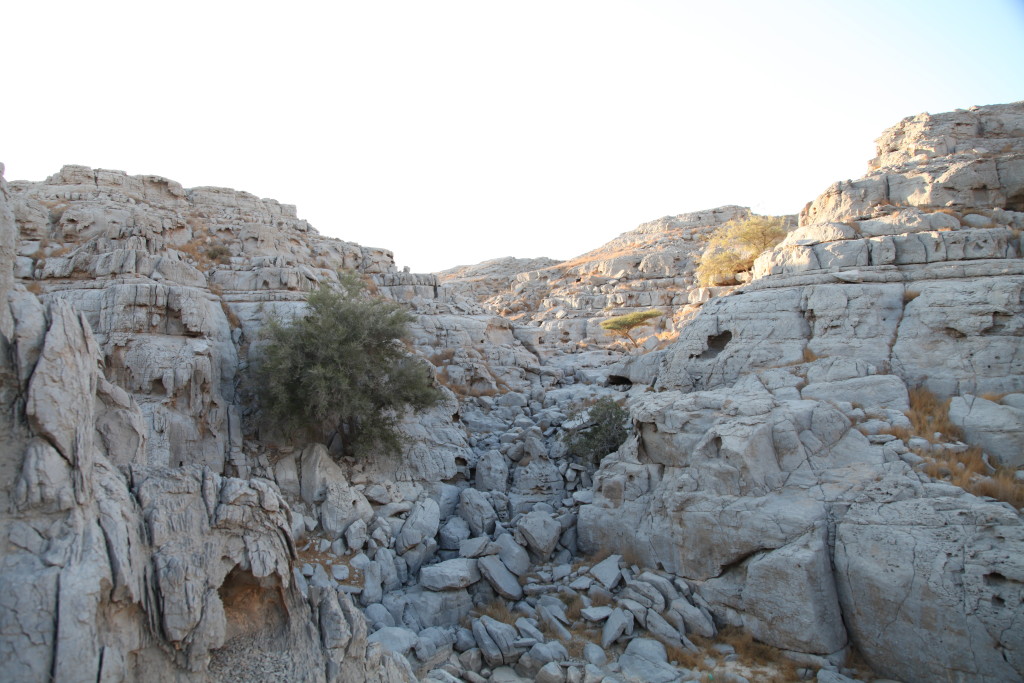 We set up our tent at one side of the beach, and headed to climb on the other side where the crag is located.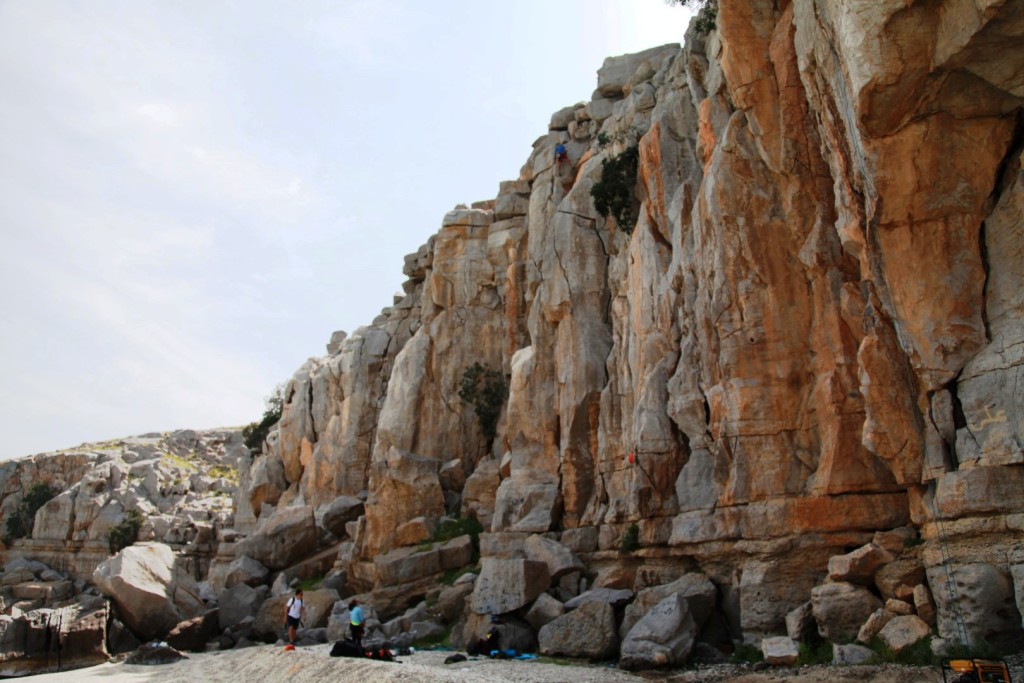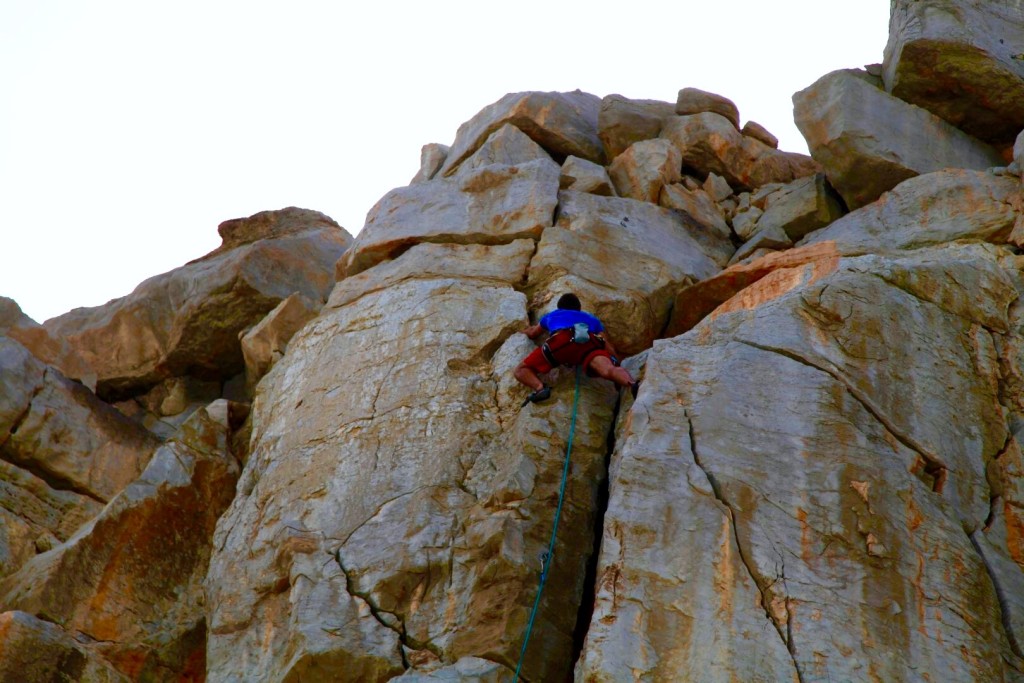 And what a beautiful experience it was. Climbing a 25-30m wall literally few meters away from the sea. Once you reach the top, you overlook the entire magical space. It was dreamlike to climb there in complete remoteness while watching the sun sets in the horizon.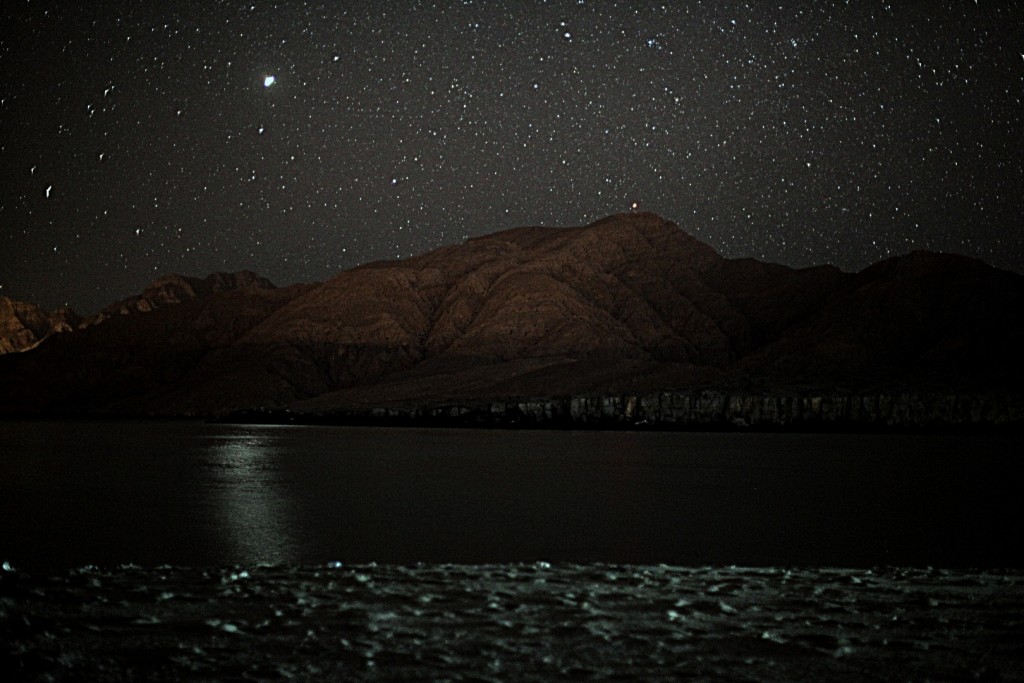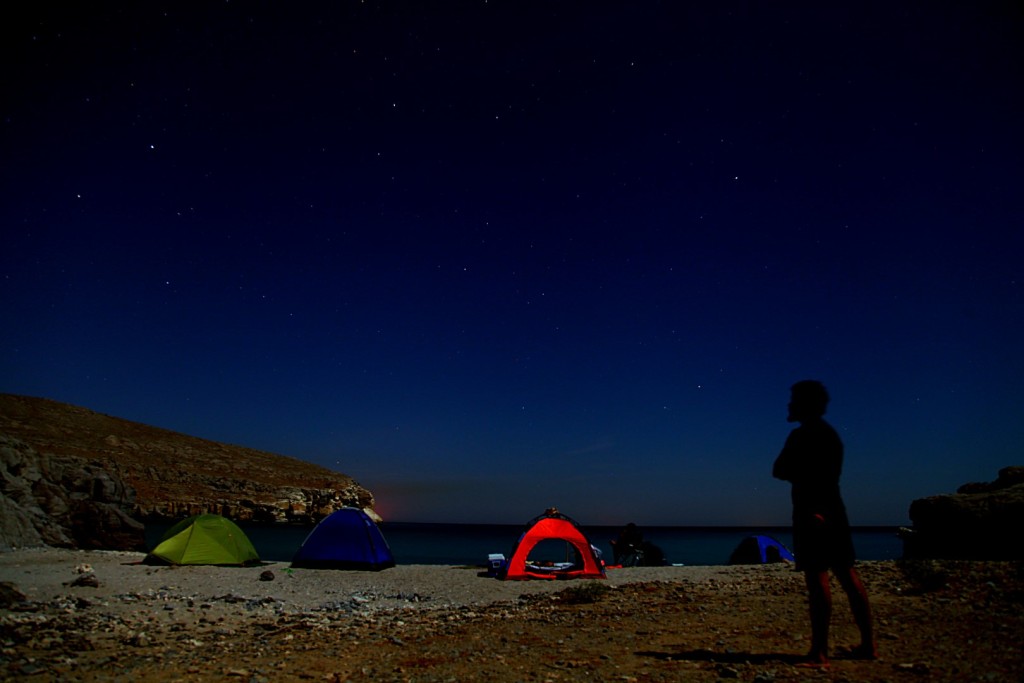 Day 3:
We woke up early morning at the sound of fisherman's boats heading out deep in the ocean. Mohammed picked us up with his speedboat. He took us to the famous telegraphic island and briefed us about its history. The island was the communication base of the British army back in the war days. The British army chose the island for its strategic hidden location between the mountains of Musandam.
The island is surrounded by beautiful coral. I highly recommend to do some snorkeling around.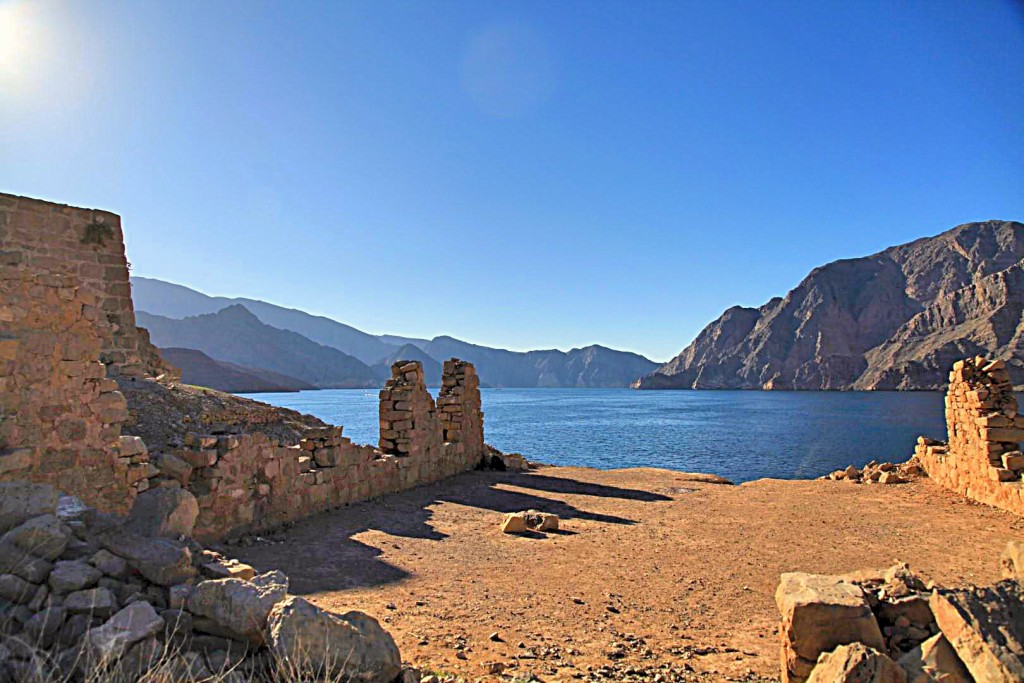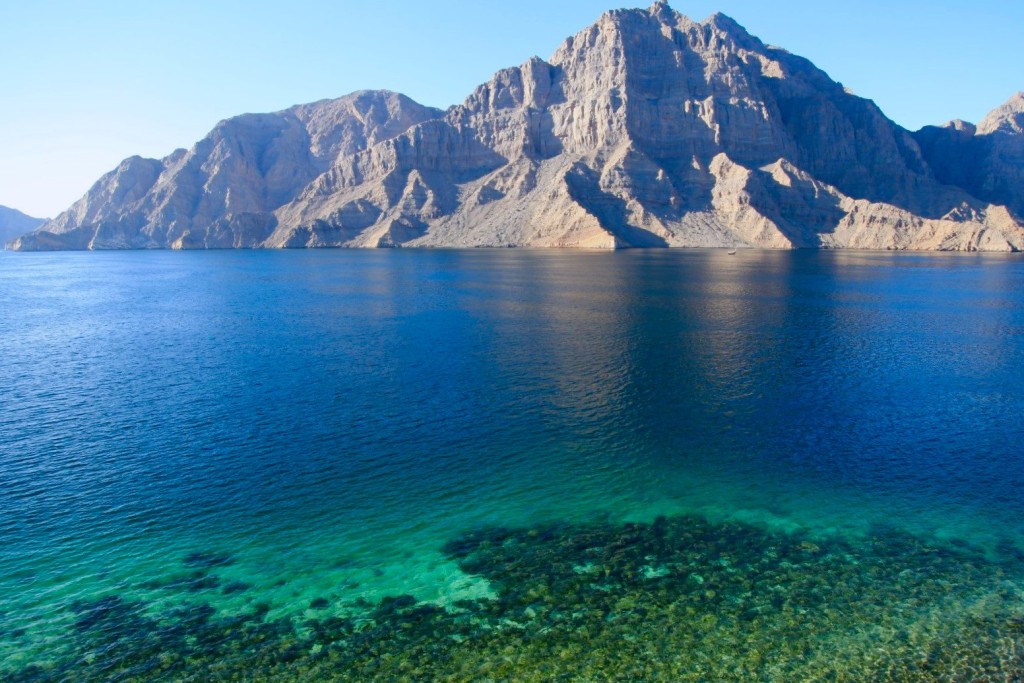 And then he dropped us to Kumzar. Kumzar is located at the tip of Musandam's peninsula. The Kumazaris speak their own language in addition to Arabic (as per the locals)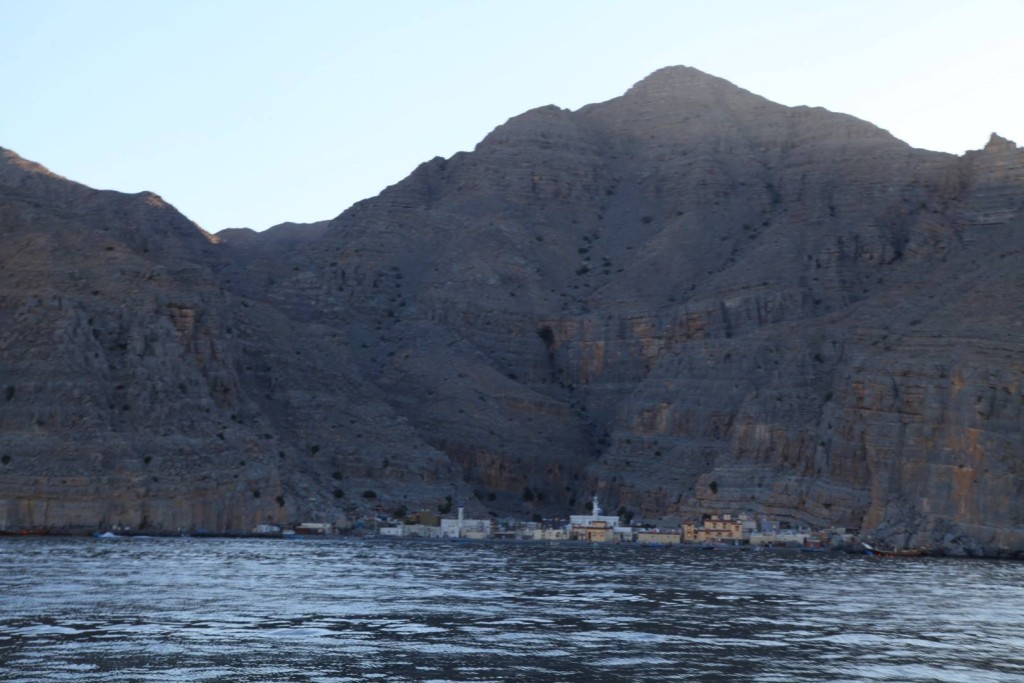 We walked through this old remote village towards the mountain peak standing still behind the village, and we started hiking. We followed some donkey paths, scrambled some few sections and got lost a bit.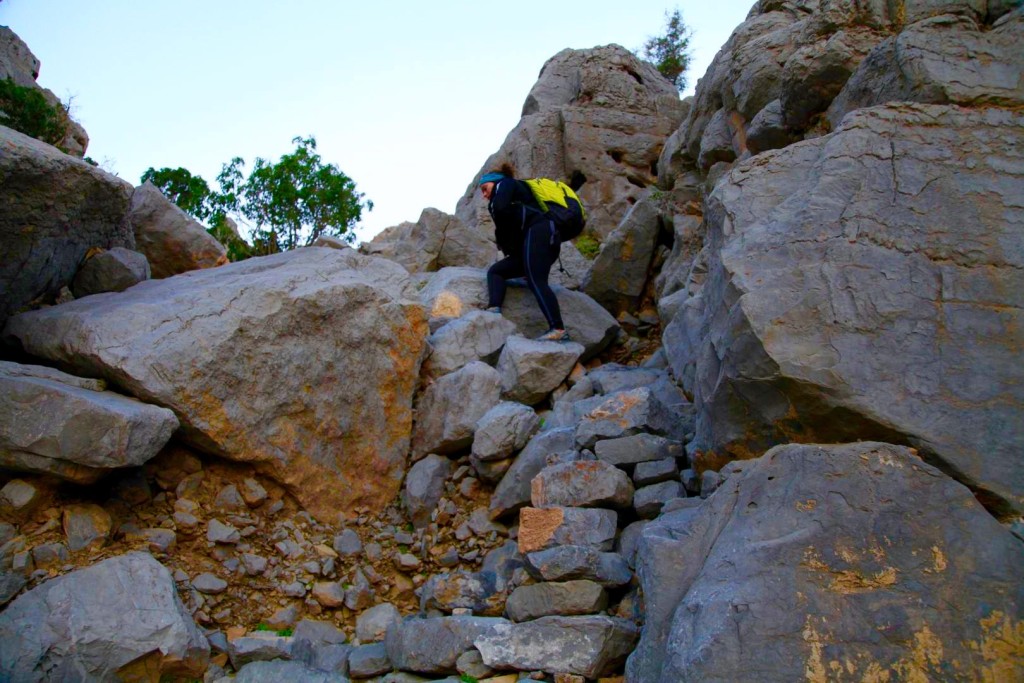 We met a group of Kumzari girls descending wearing flip-flops and cute little dresses. They were smiling and laughing at us all the time for being lost.
We managed to reach one of the peaks overlooking the village, the ocean and even Iran, just before sunset. The peak was nothing just a small space. But we loved it. We watched this masterpiece (picture below) for a while and called it a night.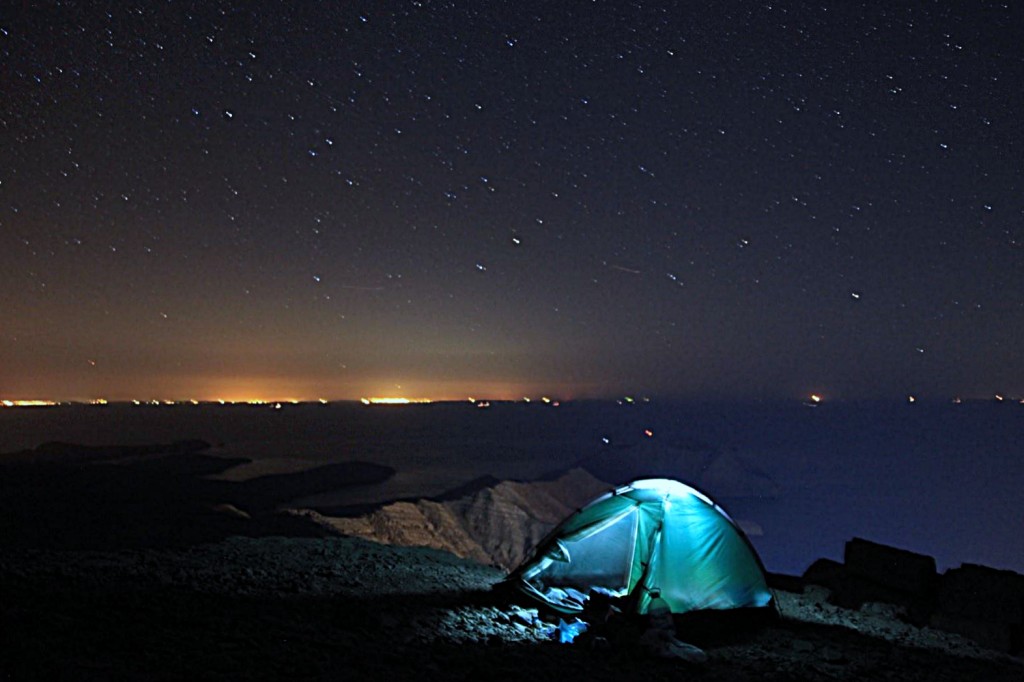 Day 4:
We had our breakfast overlooking this marvelous scenery. Then we started our descent. We reached the shore right on the scheduled pickup time. It was very emotional heading back to the port knowing our glorious trip has come to an end.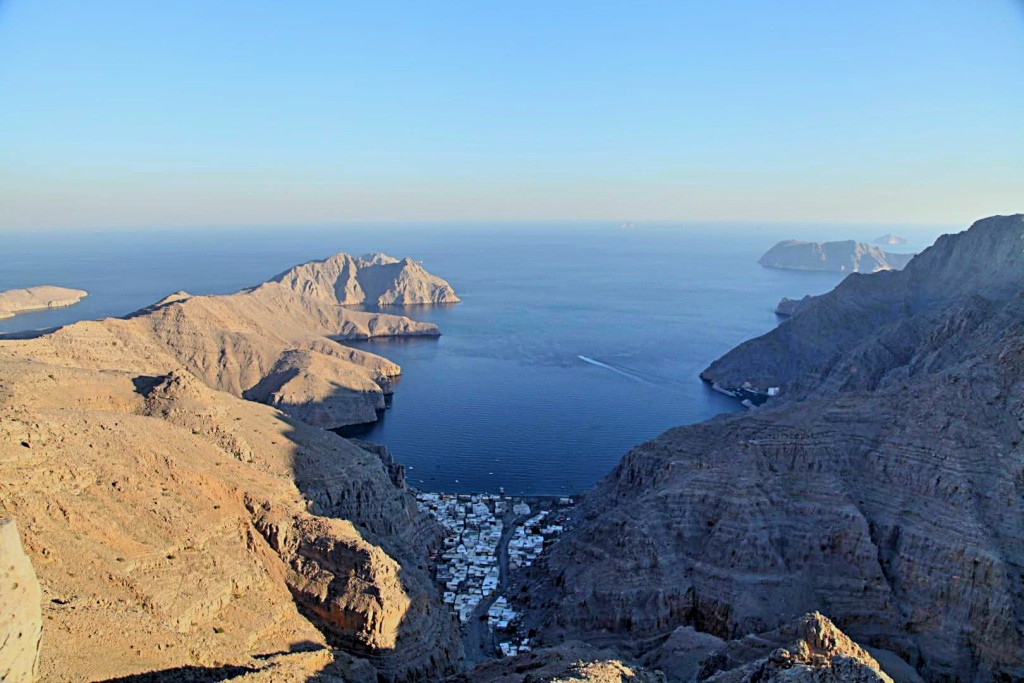 But no, the adventure did not end there. The least expected happened just when we sailed in the port. The coast guard police were waiting for us and took us to their station. The reason they stopped us was my big DSLR camera and the fact we were in a highly sensitive area rooming around on our own. Apparently there are many army bases around the peninsula. So they checked my camera's content and let us go.
The chief of police was very lovely, he gave us two Omani pins and his business card to contact him whenever we wanted any assistant in Khasab. We were very well treated and overdosed on Omani Tea (very sweet tea mixed with milk and some condiments).
---
HOW TO GET THERE:
Drive to Ras Al Khaima, cross the UAE/Oman border. Continue straight on the coast line all the way to reach Khasab port. There is a Lulu hypermarket just before Khasab port.
Coordinates: 26.201890, 56.254050
Driving up to As Sayh village requires a powerful 4×4 as the road is not paved and very steep at places.
You can pretty much rock up to the port and ask any fisherman to take you to Seeb Al Ghareeb, the islands, beaches or even Kumzar. The average price to Seeb Al Ghareeb is AED 150 for the whole speedboat. The average fee to Kumzar is AED 1,200 for the whole speedboat (both ways).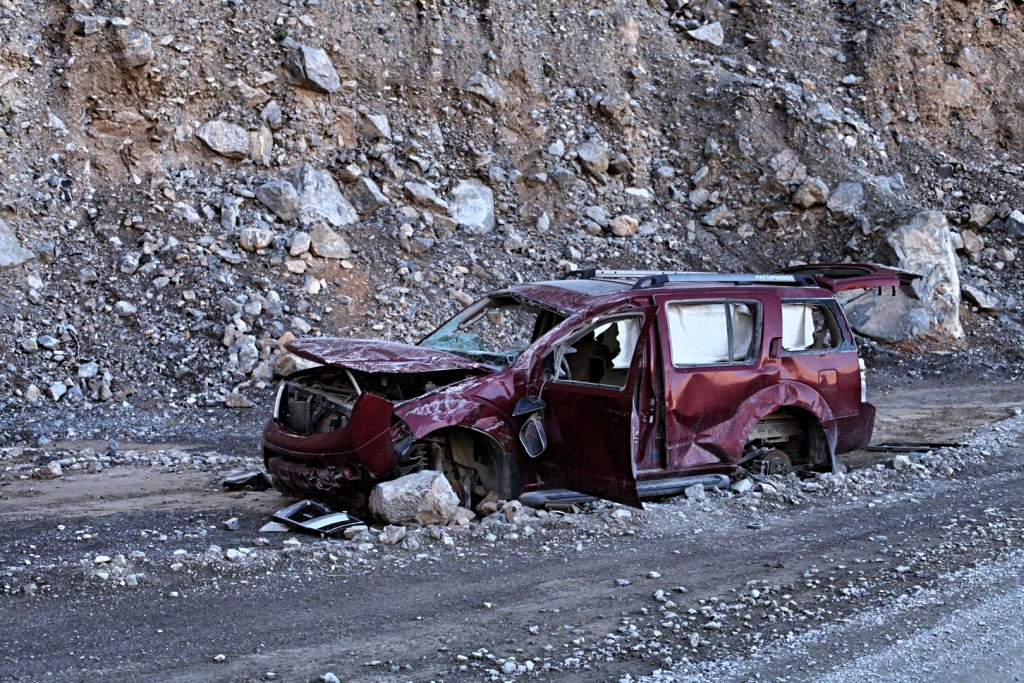 ---
VISA REQUIREMENT:
All UAE residents that are adults and sponsored by a company, get visa on arrival.
All UAE residents that are minors or/and females or/and students require to have a pre-issued visa at the consulate of Oman in UAE. Or a No Objection Letter from their sponsor. (rules keep changing, please call the consulate for confirmation).
If you are on UAE tourist visa, make sure you have a multiple UAE tourist visa before you exit the country. Or your passport allows you to get visa upon arrival to the UAE.
Single entry visa fee is AED 50 (equivalent to O.R. 5) and valid for 10 days.
You are also required to fill in a tourist form that has your basic info.
Traveler must have a valid passport for at least 3 months.
All drivers must have car insurance that covers Oman.
If you want to take your pet with you, make sure they have their full vaccination card (This is not always guaranteed to get your pet across).
---
WHAT TO DO WHILE IN KHASAB:
Hop on a Dhow cruise and witness dozens of dolphins swimming by. (You require pre-booking via a tour)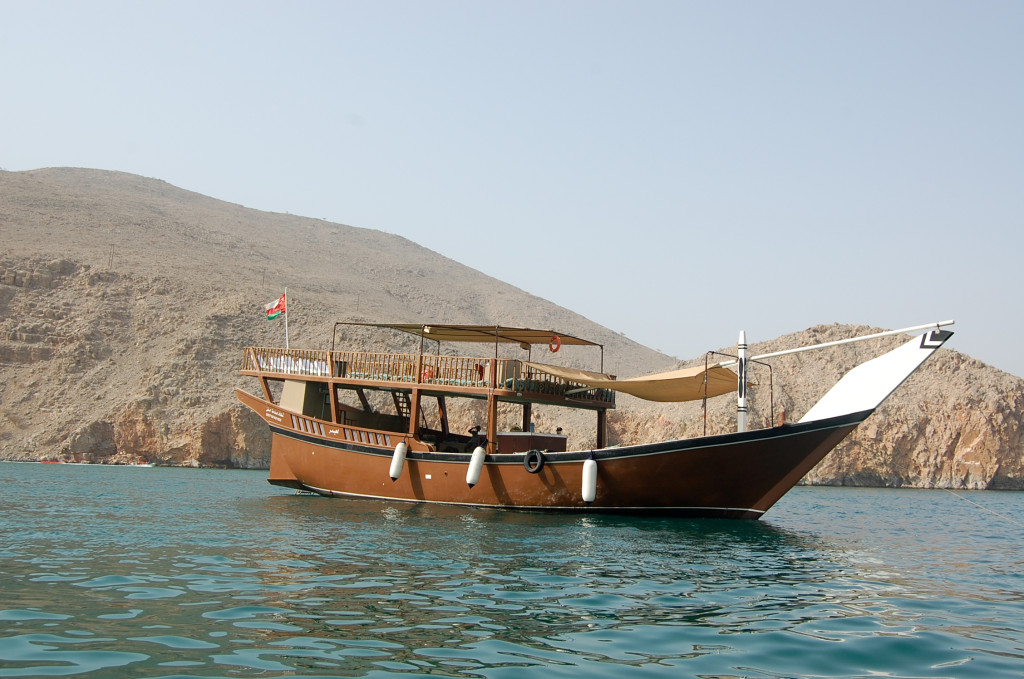 Hike to the top of Jabel Khumzar (2 days hike, and not recommended for unguided beginners)
Kayaking along the Khors and islands.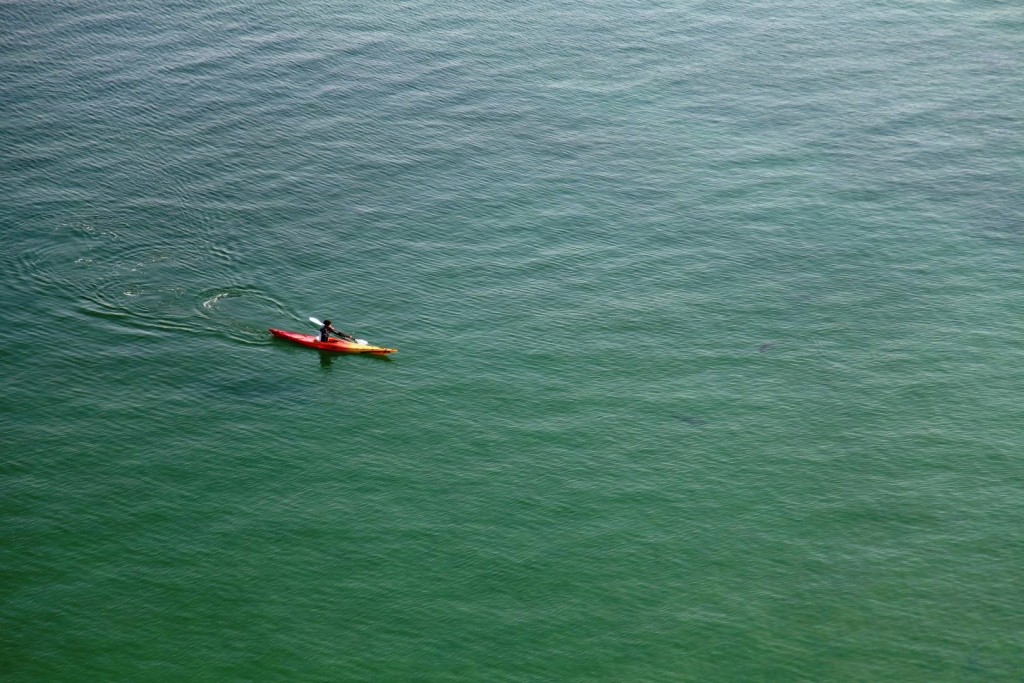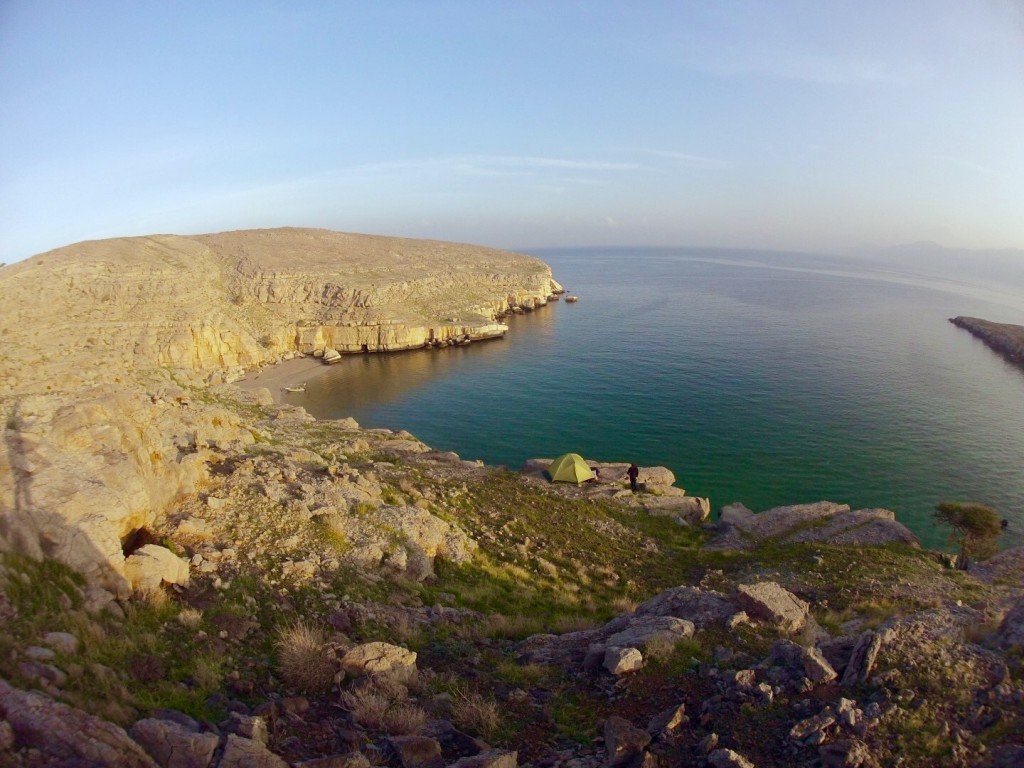 Rock climbing (all topos are available in the Rock Climbing UAE book – Red Armada Publishing – available in outdoor stores)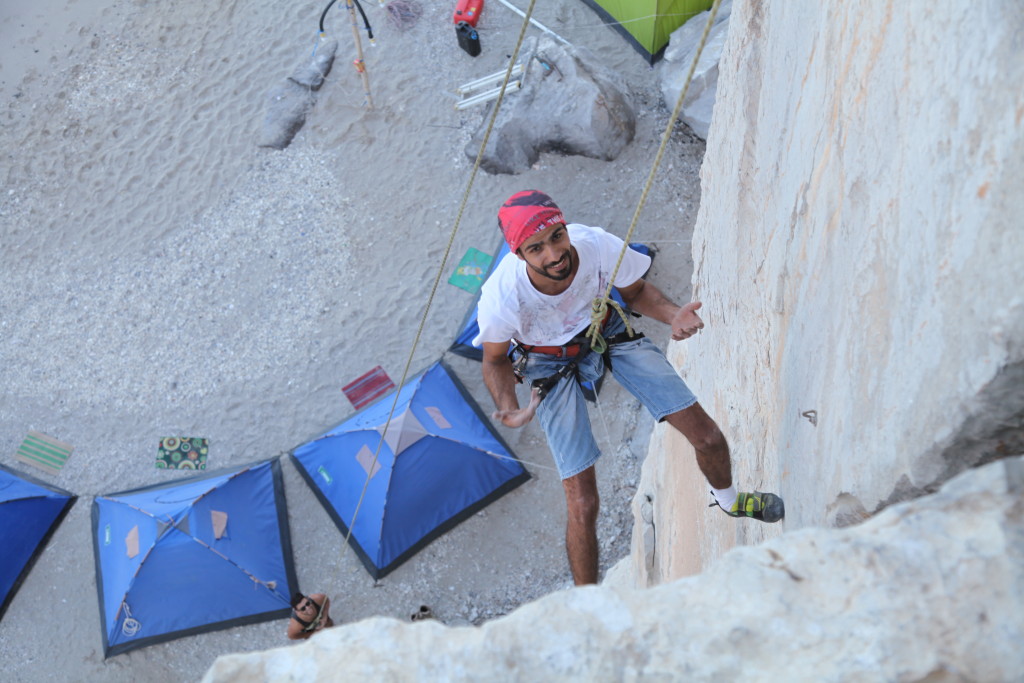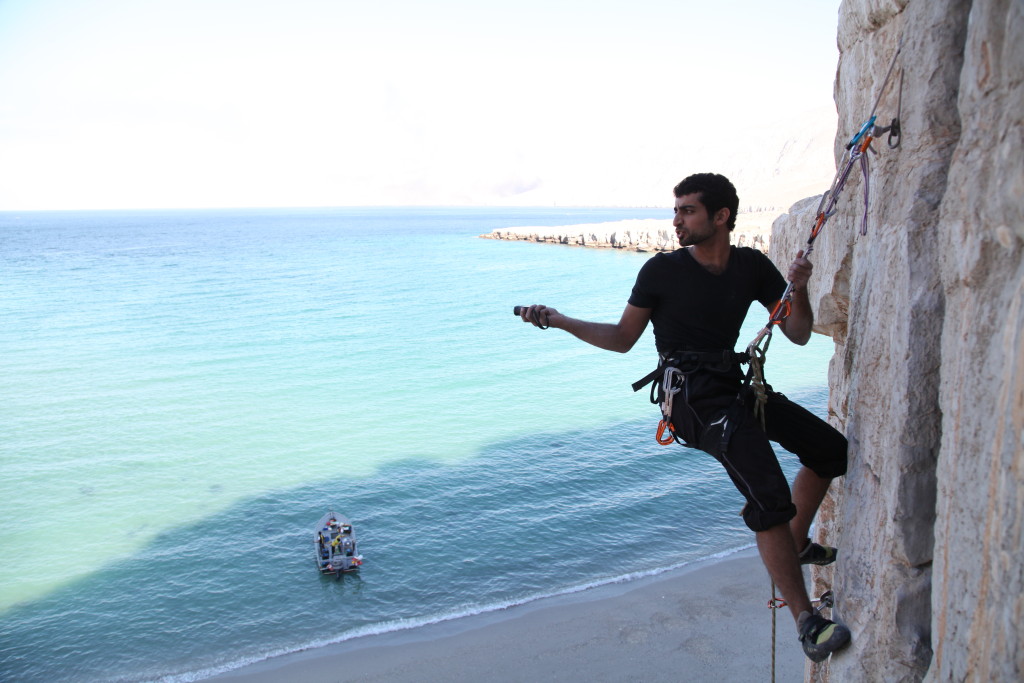 Diving and snorkeling
Photography
The hike from Khasab port to Seeb Al Ghareeb: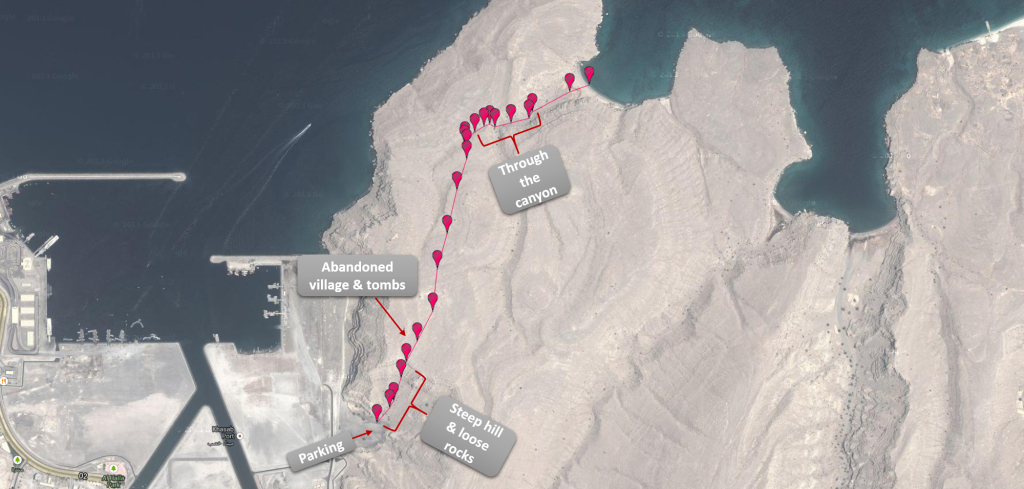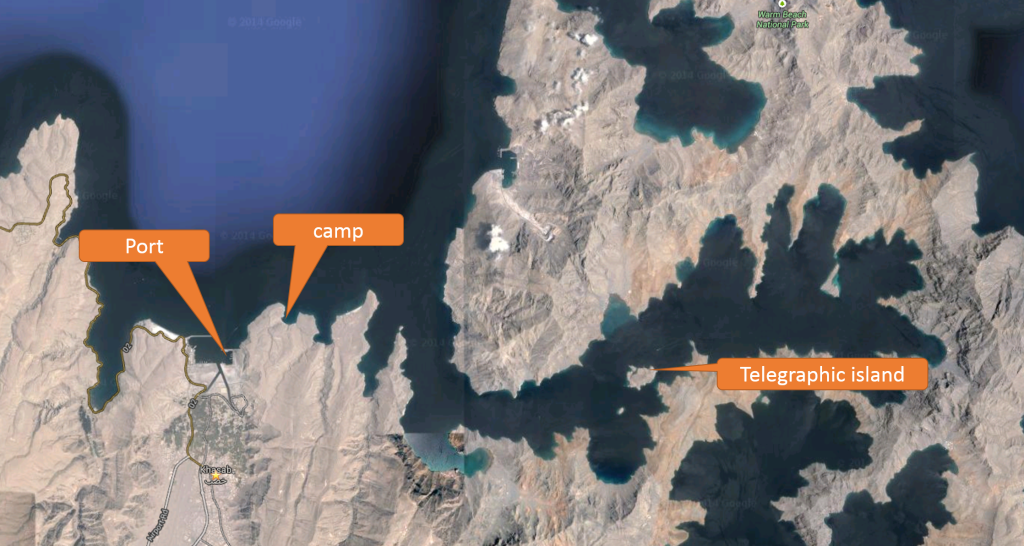 ---
WHERE TO STAY WHILE IN KHASAB:
There are couple of hotels (I have never stayed in any of them).
You can camp on the beaches or around As Sayh village (stay away from the military bases and don't bother the locals).
---
WHAT TO SEE WHILE IN KHASAB:
Khasab fort.
If you are lucky you get to spot some Dolphins, black tip sharks and rays.
Telegraphic Island (Getting to the telegraphic island and Khumzar requires you to hire a speed boat or Dhow).
Khumzar Village (one of the oldest villages of Oman).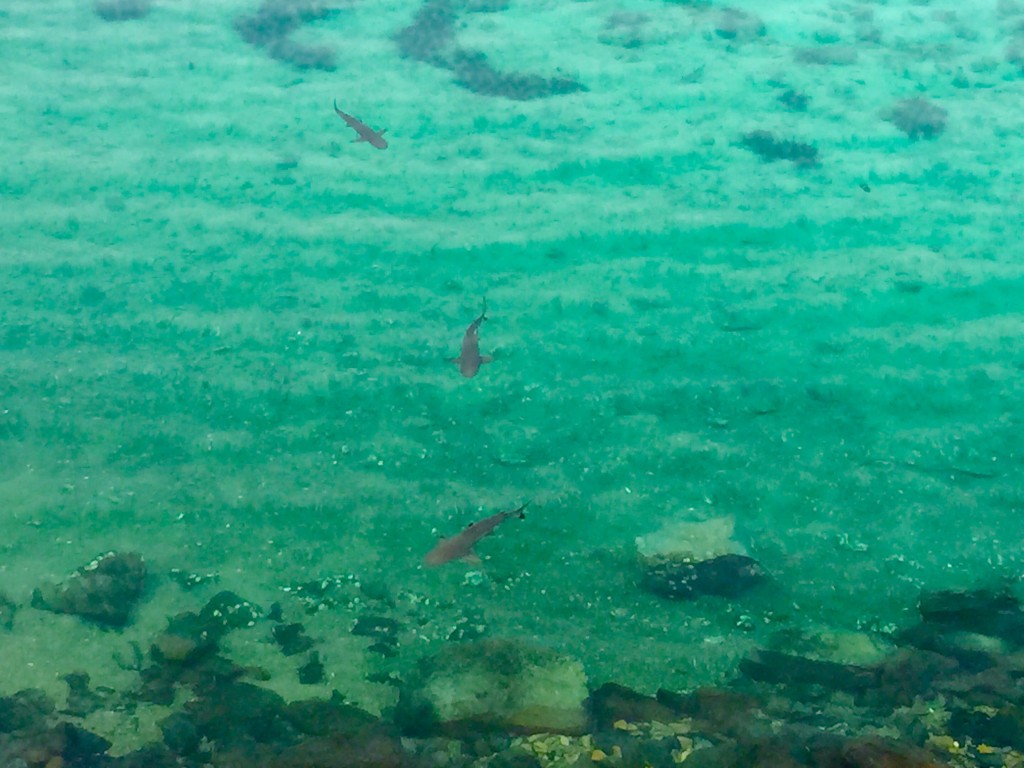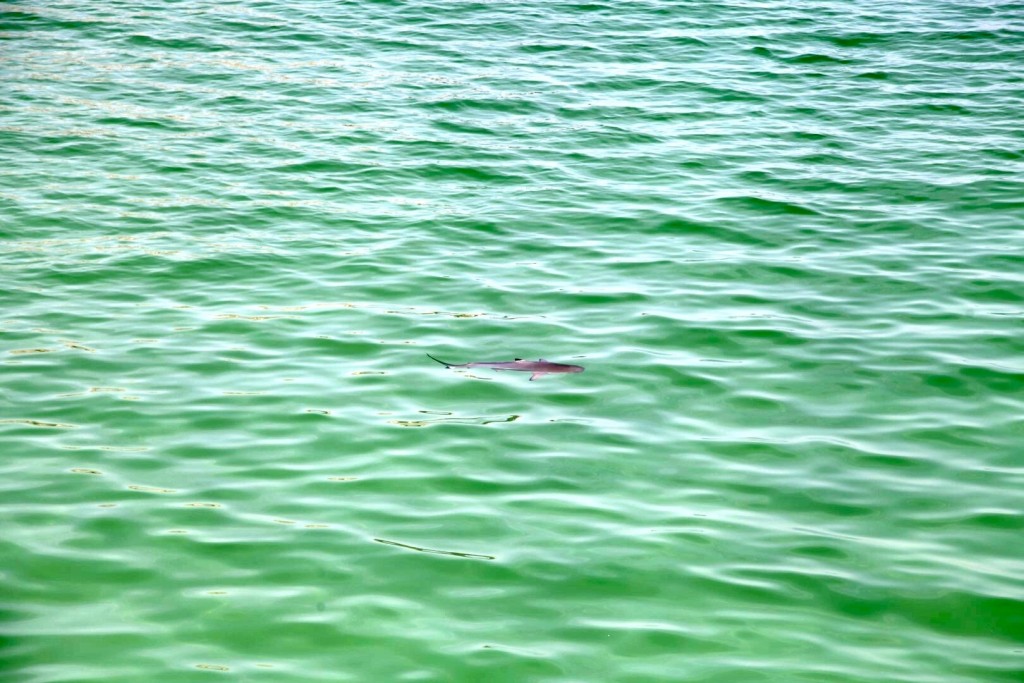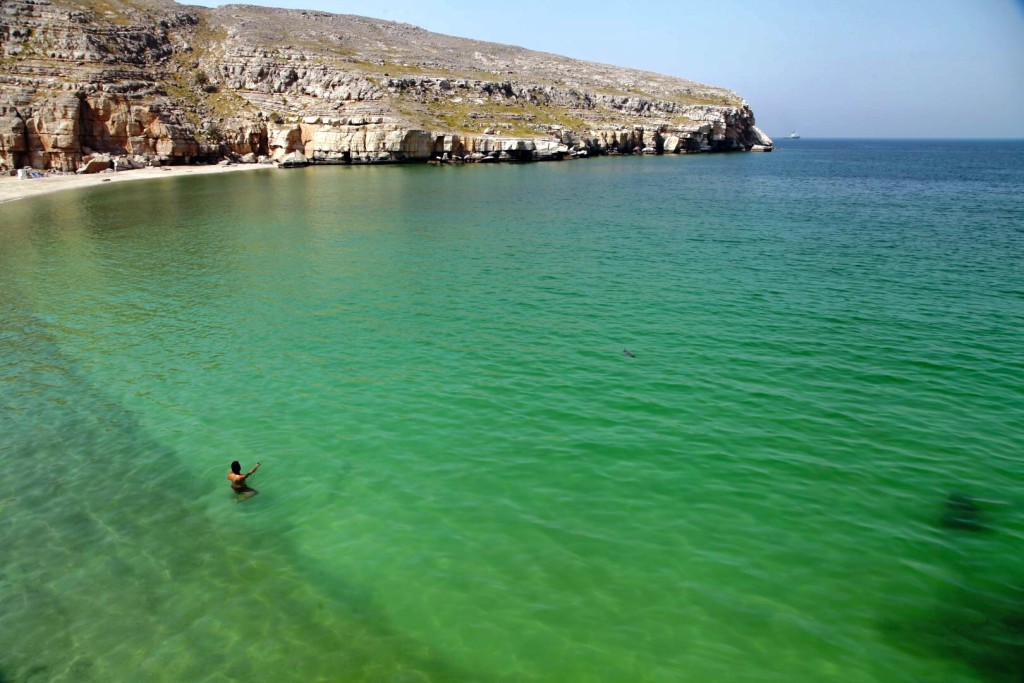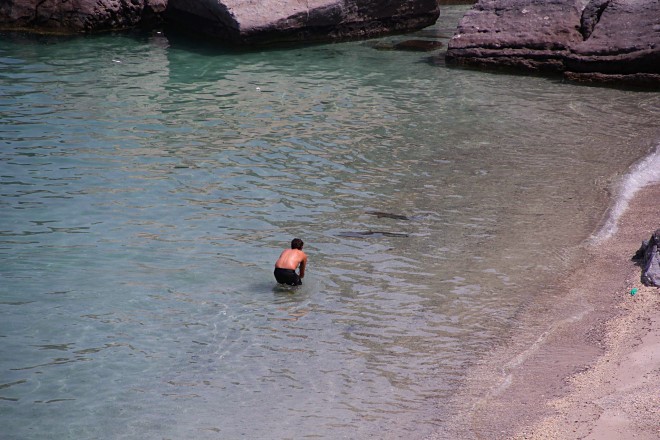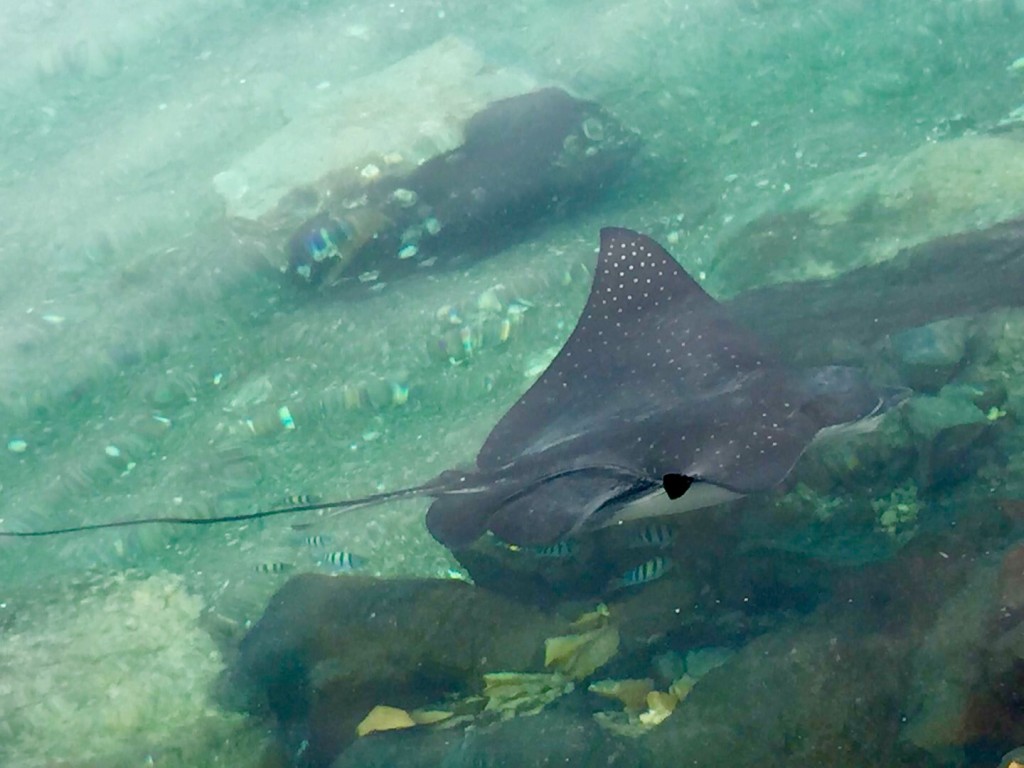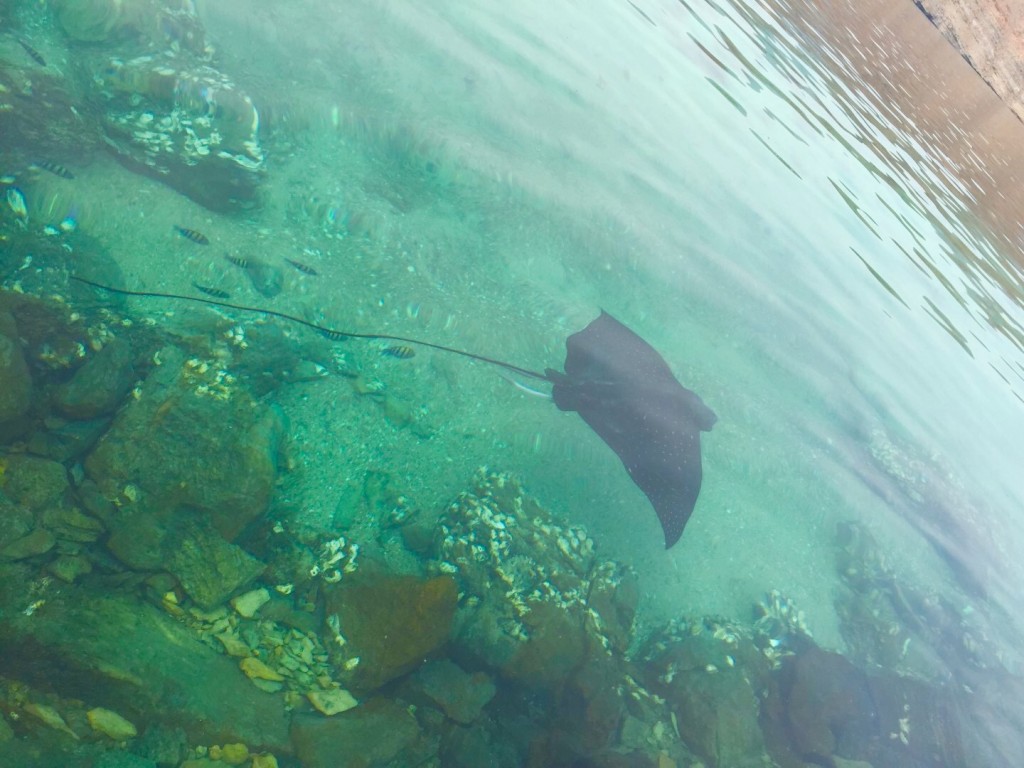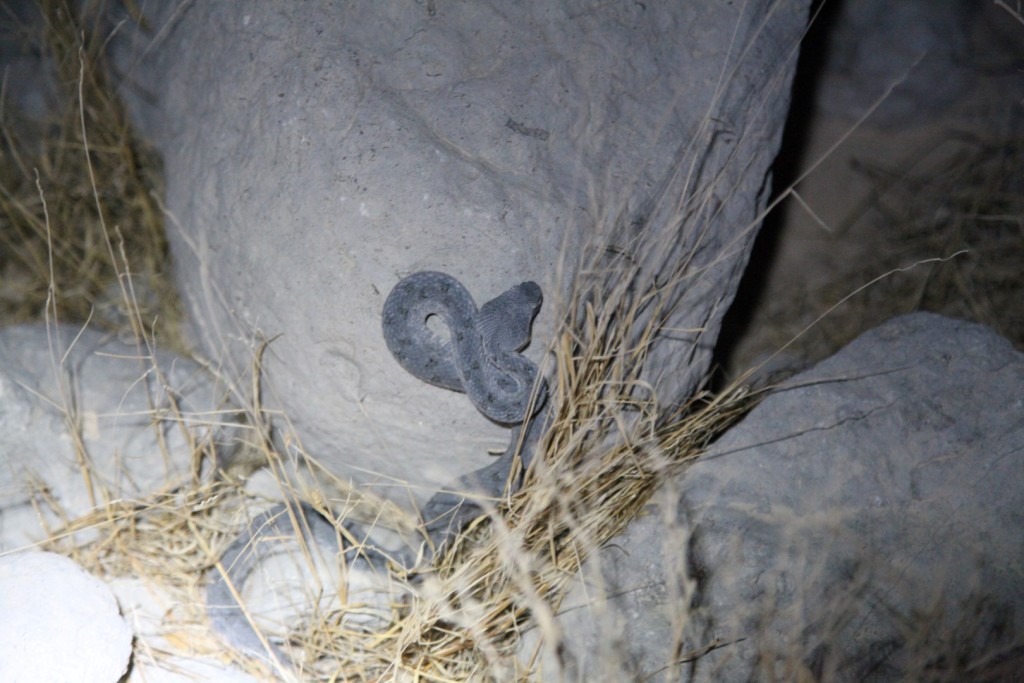 ---
TIPS:
Drive up during the day to enjoy the beautiful scenery
Avoid crossing the border between 8:30 and 11:00 am on Friday
Don't drive there when it is raining. Take your car away from the rock falls and floods. Park your car in a big open space away and on higher ground to avoid rock fall and the floods.
Don't speed up, the roads are small and the turns are hard. Plus police randomly throw checkpoints
Have a car insurance that covers Oman
Don't disturb the locals in Khumzar. Don't photograph them if you don't take permission
If you are a girl and Khalid approached you for photo opportunity in Kumzar, watch out "accidentally" grabbing you by the bootie twice 😛
---
LAST & MOST IMPORTANT:
Watch out from snakes and scorpions especially during the hot season. I have encountered various types of viper snakes during all season and was bitten by one in November 2015. Which left me in the ICU for 3 days and almost killed me.
Please keep the area clean. In the recent years, I have witnessed an increase of travelers and tourists in the area. Which is good for the local community and economy.
However, I have also witnessed an increase of a scary amount of garbage piled up on the beaches and even in the water. This does not only affect the scenery, the hygiene of the area and/or our mood. But also negatively affects the marine life and endanger many species.
Please pick up your rubbish, learn how to respect and preserve nature. After all, we want to leave something behind to the next generation.