Snake Canyon is probably one of the few canyons in Oman that will kick your butt with adventure, increase your heart beats and give you a dose of adrenaline but considered on the easier side of the canyons chart. Hey! I said easier, doesn't mean it is easy and you have to underestimate it. There are many recorded accidents and a few death incidents because of this one. I am not trying to scare you, but shedding the light on safety and guidelines to maximize your adventure and be safe.
The Path:
Snake Canyon is a mix of multiple terrains. Pools, knee deep ponds, streams, boulders, gravel, mud, jumps and some abseils. About 80% of the route is in between two walls, each about 200m.
Routes:
Snake canyon has two routes. Rather say 2 separate entrances that meet in the middle and continue out the other side of the canyon. The routes are distinguished by the names of right and left fork. Well, I don't know which is which, it is one of these funny memes: "is it my right or your right" kind of argument. So I prefer to refer to them by technical and none-technical routes. The technical route has a very dramatic entrance to it, it looks like a gate from an ancient civilization. It starts close to Balid Sayt viallge. On this route, there are 3 drops that you have to use ropes to abseil them down (one of them might be jumped). The drops are all equipped with anchors, but you will need your gear to setup stations. 2 of the drops are short, while one of them is a total of 40m, but split into 2 drops, the first abseil is around 30m while the other is around 10m. Probably this is the best place of the entire route. The none technical route starts off a wider entrance close to Bimah. Labeling is as none technical doesn't mean it is easier, this route requires you climbing down a few boulders and jumping off others. This route is also known for its natural slides, so make sure to go for them, they are FUN !! Just after both routes join, you go through a 50m beautifully carved cave in the rock. Unfortunately, last time I was there, the cave was completely dried out, while for the past years it was always full of water and you have to swim through it. And since the route ends very far from the starting points, you have to pre-organize some logistics by dropping a car to the other side, or hitch-hike (though the chances of a car passing by are too little), or simply just walk back on the road for around 8km.
Canyon's parameters:
Technical route distance: around 4.5 km
None technical route distance: around 4 km
The time required: this is very tricky as many factors can affect your speed in such terrain. But allocate 5 to 7 hours at most. If you reach the intersection and you have consumed more than 3 hours, this is the time that you have to speed up.
Altitude loss: 5-10m
Starting elevation: 8550m & 905m
Ending elevation: 700m
Requires: swimming, climbing & bouldering around large rocks.
Non-technical side Level: 2-B-PG-II (based on ACA canyoning rating)
Technical side Level: 3-B-PG-II (based on ACA canyoning rating)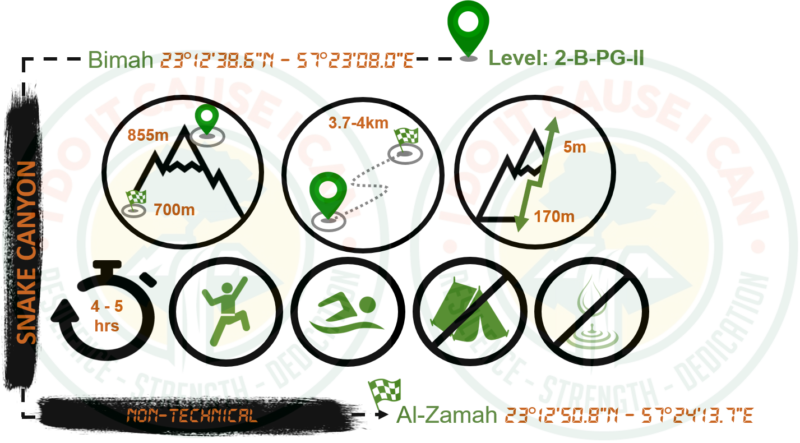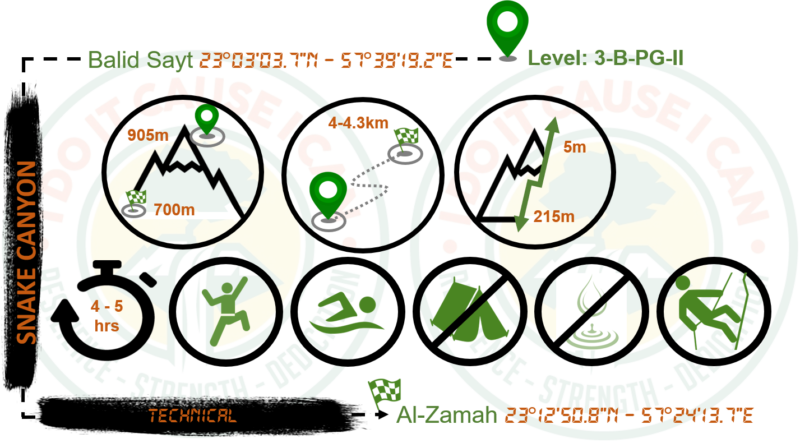 Coordinates:
Technical route starting point, Bimah: 23°03'03.7″N – 57°39'19.2″E
Non-technical route starting point, Balid Sayt: 23°12'38.6″N – 57°23'08.0″E
End points, Al-Zamah: 23°12'50.8″N – 57°24'13.7″E
Essentials:
You probably do not need sun protection since the sun will hardly get through. However, you will require the below kit:
Wetsuit. It is not mandatory, but many people do not cope well with the cold. Bear in mind you will be in the water a lot and there is not much sun in there. The water temp is about 17C.
Do not carry hiking bags, as the fabric will sync in lots of water and become heavy. Take canyoning bags instead.
Harness, helmet, abseiling device (not a single rope device), minimum 60m rope. If you are doing the technical route.
Water and food for the time you are in there. Bear in mind that everything will get wet, so best is to have all your items sealed properly.
Emergency blanket.
Headlight.
Buoyancy aid (something to help you float during the swims). I like to take empty bottles and put them in my bag. 1 or 2 are enough to keep me floating. I also tend to take the empty bottles dumped by others, so two birds in one stone 🙂
Fitness requirements:
You will need an acceptable fitness to do this canyon. It is a long canyon and requires lots of bouldering around on uneven terrain. Adding the swimming sections will only make it harder.
Scenery:
Here are the views not to miss:
The entrance of the technical route
The lake and features by the end of the last abseil
The cave and its features
The end point, make sure to look back as you drive off.
Red Tape:
It is a must to start early. The area is well known for its midday rain. Once the rain starts falling, flash floods are instantly formed. Being inside of the canyon will give you no escape option but to be caught with the floods. And you do NOT want to be there.
So start super early, around 8am the latest so you will be out by noon time.
Keep an eye on the sky, any signs of clouds, means it is about to rain. It could also rain on top of the mountain and build flash floods in the canyon.
Make sure you check the weather forecast of the area before heading into the canyon.
I recommend a guide if you are not experienced in canyoneering. Experience not only includes knowledge in abseiling but also self-rescue and avoiding problems.
I have seen large groups going through the canyon and this is wrong in so many ways. So don't exceed 5-6 people unless you are all fit and experienced.
Please don't leave trash behind, and if you see any trash laying around, do the community a favor and collect it.
Pictures: