UPDATE: May 24, 2020
Not the best update, a favorite kayaking and camping spot of mine in the area is transformed into a construction site. There are not many details but these pictures that I have received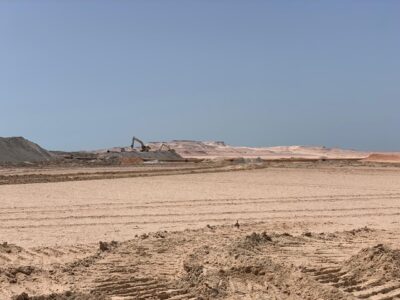 What used to be a mangrove shore. 
Kayaking in the UAE will be a whole different experience after finishing reading this blog.
If you have lived in UAE, you probably heard of the famous island Sir Baniyas in the south. The island is famous for its luxurious hotel and few gazelles jumping around. But if you're more like me, fancies untouched nature, and love kayaking, then you want to know about this amazing location.
What is kayaking:
Skip this section if you know what kayaking is.
Kayaking has different forms for different purposes and different types of water.
Sit-on-top kayaks are usually used for leisure trips (fishing, camping…) on calm water.
Sit-inside kayaks are like sit-on-top kayaks but with the option to stay dry thanks to the outer skirt.
Whitewater kayaks are used for racing in rivers.
Sea kayaks are used for ocean/sea racing.
Hybrid (canoe) kayaks are slow and used for fishing, family, camping in calm water.
Kayaking between UAE's Islands
I have to say this again: Kayaking in the UAE will be a whole lot different when you read this, and make sure you see the photos <3
This kayaking trip was spontaneous. Our friends suddenly had to leave the country, so we decided to go for their last kayaking trip in the UAE, but somewhere we haven't been before. The discussion immediately steered towards heading to the southern part of UAE and kayak between UAE's remote islands.
We rented a few kayaks and hit the road to explore a starting point that would work as our camping spot for the night. A couple of hours later, we found a crest called Bu Shiyarah Island. The approach was a beautiful drive full of gazelles jumping around and hiding in the bushes. We setup our hub, put the kayaks in water, and kayaked around the crest for few hours. We were having fun, chasing each other in the mangroves, enjoying the clear water, until we saw a security guard rushing towards us on land and seemed unhappy. I kayaked towards him to check on him, but to our misfortune, he asked us to leave the place as it is a private compound (which was not apparent and no signs). We kayaked back to our campground, where the security guard helped us load the kayaks onto the trailer, and gave us some directions towards the public area.
We immediately made a move as we didn't want to lose time. 45 minutes later, we reached that place. I have to say, it would have been one of the most beautiful spots in UAE if it wasn't for the piles of garbage (mainly plastic) washed up on the shore. Nonetheless, we found ourselves a nice camping spot sheltered away from the wind, and setup camp with a stunning sunset.
In the morning, we took our time chilling and relaxing with very pretty views. We released the kayaks and kayaked around and between the mangrove plantations. The overall experience was super nice! Except for the unfortunate garbage laying parallel to shore all over the place.
I will not give you the exact place we camped at, as I feel you really have to explore it on your own. I believe you have enough information to bring your curiosity and adventurous soul into work.
Extra stuff:
You can rent out kayaks from few shops around the UAE. But you have to pre-arrange the pickups and availability. My choice of renting kayaks always goes to Global Climbing (and no they do not pay me to advertise their shop).
If you are a couple, I recommend going for a double seater kayak, it is fun.
Feel free to take whatever games/toys you want, make it fun as long as you leave no trace behind.
For more Kayaking adventures, you probably should try kayaking at Hatta dam and kayaking in the heart of Abu Dhabi
Red Tape:
Hydrate well and have some sun protection.
I have heard there are oil refineries (or some sort) which you should not come close to. So if you see a fenced area, stay away and do NOT take photos.
Some of the islands around are privately owned, so stay away from them unless you were invited.
If you get seasick, or have problems with motion sickness, make sure you have some meds.
Do not litter the sea. Take all your garbage with you. If you find plastic in the water, please pick it up.
Respect the mangroves, and don't do any harm to the plantations.
Keep the life jacket on you if you do not know how to swim.
Make sure you have all your belongings in waterproof bags or drum barrels.
Watch out from driving on soft sand and mud. Getting your car stuck there could be painful.
Pictures: